Campus & Community
Money Matters: Syracuse Smart Money Program Leads Students to Financial Wellness
As students accept their diploma at the end of their academic careers at Syracuse University, they are prepared for professional success. The Office of Financial Literacy wants students to also be ready to achieve financial success and wellness through a new initiative.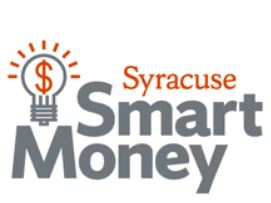 The Syracuse Smart Money program leads students through a four-step approach to empower them to minimize expenses, establish savings, show a commitment to paying off debt and plan for their financial future.
Developed by Derek Brainard, financial literacy coordinator in the Office of Financial Literacy, the program encourages students to start the Smart Money Steps to Success as a freshman and continue the series each year, in partnership with one of the office's peer Smart Money coaches.
"The goals of the Smart Money program are very much in line with the strategic goals of the Office of Financial Literacy: we want 100 percent student engagement in financial wellness activities on campus  at least once before they graduate," Brainard says.
The office offers one-on-one coaching, group workshops and online resources designed to get students access to financial education in several ways.
"We want students to have the knowledge to manage money well, and we want them to see a progression in behavior before they graduate that shows they are implementing the strategies we teach," Brainard says.
Action steps
The Steps to Success plot out the measures students can take to build on their knowledge throughout their college career. Each of the steps—minimize expenses, establish savings, plan for your financial future and commit to paying off debt—include learning and action components.
For instance, the first step, minimizing expenses, provides information on student borrowing and living on a budget—basically how to live within your means and start saving money, Brainard says. There is also information on how to connect with a Smart Money Coach, peer counselors trained by Brainard who help guide students in one-on-one sessions to assess their needs and provide them with tools and resources in their understanding of financial wellness.
In later steps, students are directed to such activities as figuring out the costs of living on and off campus, evaluating benefits packages, looking at long-term investing and plotting a financial plan.
"It's a progressive experience that students can start as freshmen and finish up as seniors. Or they can do it all in one year," Brainard says. "They start off learning how to make a budget to using credit cards wisely to looking at paying off student loans. Students make their way through the topics so by the time they graduate they are ready for real-world application of their skills, such as selecting a mutual fund in their first job's 401k plan or looking at the costs of living in New York City vs. Seattle vs. Cleveland."
Newhouse class
The Smart Money program was created after Brainard worked with a graduate research and marketing class at the Newhouse School, taught by Professor Dennis Kinsey. The class took on the Office of Financial Literacy as a client, looking to see what they could improve in terms of marketing.
"The coaching program itself is very valuable to participants, but one of the biggest things was to get the word out," Brainard says. "In an effort to put something out there that was more intuitive and more accessible to everybody on campus, we had to come up with a campaign around the services we offer and brand it in a way that was appealing to folks."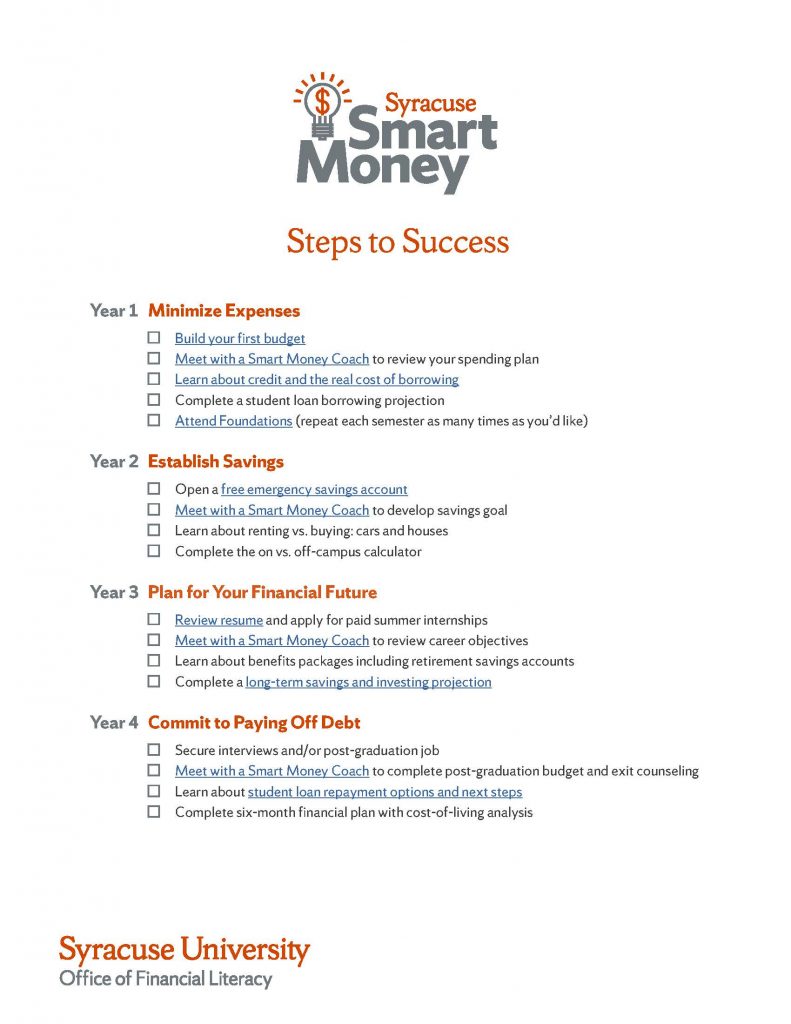 The Syracuse Smart Money theme was created and Brainard worked with the Office of Marketing and Communications on campus for a design.
"Syracuse Smart Money is just the next step. Step one was to create the Office of Financial Literacy. The second step was to get a campaign out there that would reach the widest audience," he says.
The Steps to Success is delivered to students primarily through the one-on-one coaching and First Year Forums. It is also being shown to students through the new Foundations Program, a six-week program to help students build essential life skills in such areas as financial wellness, career development and leadership. Brainard presents on financial matters.
One-on-one coaching
All of the different outreach helps students learn about the one-on-one coaching, which Brainard says can bring the most value to students on an individual basis.
"In one-on-one conversations, we can gauge where someone is in their financial walk. And we can see if they are responsibly using credit cards or have an emergency fund in place, and then we move on to what they need," Brainard says. "We meet them where they are in their financial journey."
Preparing students for their financial future is a priority for the University, Brainard says. It is one of the components of Invest Syracuse, an initiative to advance the ideas of the Academic Strategic Plan. Under the goal of expanding opportunity, excellence and access, the initiative proposes to provide enhanced support and education through the Office of Financial Literacy to ensure students graduate with a firm grasp of debt management, budgeting, planning and saving.
The Smart Money program and its Steps to Success offer that path for students. "If they enter from the first lesson and hit all the modules, by the time they leave here they're going to have the knowledge and skills they need to be successful in their financial life," Brainard says.
This is another feature in a series of stories by SU News, in collaboration with the Office of Financial Literacy, about the work of the office and money strategies for students.