Health & Society
Lake of Betrayal Film Screening and Panel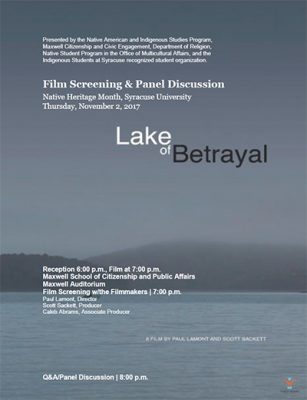 As part of Native Heritage Month, on Thursday, Nov. 2, the documentary film "Lake of Betrayal: The Story of Kinzua Dam" will be screened in Maxwell Auditorium. A reception will begin at 6 p.m. The film screening will begin at 7 p.m. and include the film's director Paul Lamont, producer Scott Sackett and associate producer Caleb Abrams. A panel discussion will follow the screening at 8 p.m.
"Lake of Betrayal," which is available for broadcast on PBS stations nationwide beginning in November, explores the effects of the construction of the Kinzua Dam on the Allegheny River in Pennsylvania on the Seneca Nation.
The film is presented by the Native American and indigenous studies program in the College of Arts and Sciences, the Maxwell Citizenship and Civic Engagement Program, Department of Religion in the College of Arts and Sciences, Native Student Program in the Office of Multicultural Affairs and the Indigenous Students at Syracuse recognized student organization.