Campus & Community
Historic Appointment of Interim University Mace Bearers, Effort to Identify Next Mace Bearer Underway
Chancellor Kent Syverud appointed two student leaders—Student Association President James Franco and Graduate Student Organization President Jack Wilson—interim University mace bearers. The interim appointment marks the first time a student—and in this case, two students—has been bestowed the honor.
"The carrying of the charter mace is a significant, time-honored tradition at Syracuse University," says Chancellor Syverud. "I am pleased to open this responsibility to James and Jack and am grateful to them both for stepping up to fill this very important role."
Franco and Wilson will serve as interim mace bearers while Chancellor Syverud and Vice Chancellor and Provost Michele Wheatly review a new process for identifying the University's next mace bearer. A permanent mace bearer will be formally installed at the One University Awards Ceremony on April 20, 2018, in Hendricks Chapel.
"We'd like to establish a method for identifying a University representative who epitomizes our values of academic excellence and student engagement," says Wheatly. "The University mace bearer represents the full range of activities of the faculty and staff, and personifies the power of research, teaching and the mentoring of others."
The search for the next mace bearer follows the retirement of Nancy Weatherly Sharp, who had held the role since 2004. Sharp, professor emerita of newspaper journalism in the Newhouse School, completed her duties as the mace bearer during the New Student Convocation this past August.
Franco, a senior political science and history double major in both the College of Arts and Sciences and the Maxwell School of Citizenship and Public Affairs, will bear the charter mace at the installation of the Rev. Brian E. Konkol as the seventh dean of Hendricks Chapel on Tuesday, Nov. 7, at 4 p.m. in Hendricks Chapel.
"It is truly an honor to partake in this opportunity for a student to be a mace bearer for the first time," says Franco. "I greatly appreciate this honor, and I hope to represent our great student body well through this special experience."
Wilson, a Ph.D. candidate in the cognition, brain and behavior program in the Department of Psychology in the College of Arts and Sciences, will carry it at the Winter Convocation on Saturday, Jan. 13, at 10 a.m. in Setnor Auditorium.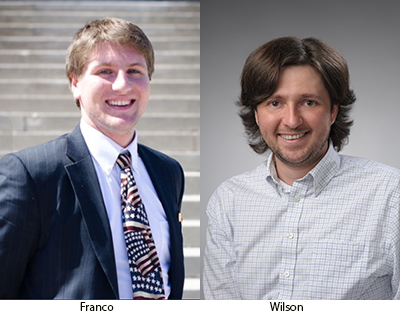 "This is an honor," Wilson says. "This is an opportunity to spotlight the central role we, as graduate students, play in the core mission of this University. Not just as students, but also as researchers, teachers, mentors and professionals."
The tradition of the charter mace began in June 1949, with University Registrar Keith Kennedy leading graduates into Archbold Stadium for Commencement. Through the years, mace bearers have been professors, deans, administrators and one chairman of the Board of Trustees.
Originally weapons of war, maces have also been used by royalty as an insignia of authority and have long been an important element of ceremony. Syracuse's original charter mace was carved of wood. It was replaced in 1959 by the one currently in use, which is made of sterling silver and precious stones—a gift to the University by mace bearer Gordon Hoople. The original mace is preserved in the University Archives. When not in use, the current mace is housed with the Department of Public Safety.
Founded in 1870, Syracuse University is a private international research university dedicated to advancing knowledge and fostering student success through teaching excellence, rigorous scholarship, and interdisciplinary research. Comprising 11 academic schools and colleges, the University has a long legacy of excellence in the liberal arts, sciences, and professional disciplines that prepares students for the complex challenges and emerging opportunities of a rapidly changing world. Students enjoy the resources of a 270-acre main campus and extended campus venues in major national metropolitan hubs and across three continents. The student body as a whole is among the most diverse for an institution of its kind across multiple dimensions, and students typically represent all 50 states and more than 100 countries.
Syracuse also has a long legacy of supporting veterans and is home to the nationally recognized Institute for Veterans and Military Families, the first university-based institute in the U.S. focused on addressing the unique needs of veterans and their families.