Arts & Culture
University Union to Host 'The Room' Screening and 'Recess X The Disaster Artist Competition'
University Union has announced that Syracuse University has been selected by Recess Digital Inc. in partnership with A24 Films to participate in the "Recess x The Disaster Artist Contest." As part of that promotion, University Union will host a free screening of "The Room" on Monday, Oct. 30, in HBC Gifford Auditorium. Doors open at 7 p.m. and the screening will begin at 8 p.m.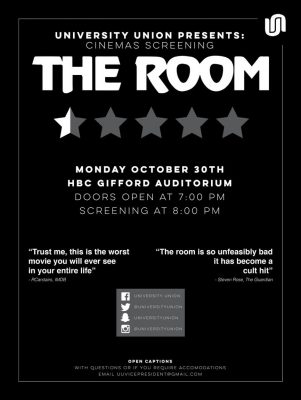 Twenty universities across the United States, including UCLA, Penn State and Duke, will be competing to win an advanced screening of "The Disaster Artist" between Dec. 1 and 8.
"The Room" is a 2003 drama starring Tommy Wiseau as Johnny. Wiseau took on multiple roles as the star, director, writer, producer and sole financer. The film follows Johnny and his fiancée Elizabeth's less-­than-­perfect life, in which she is cheating on him with his best friend Mark. The film was budgeted at $6,000,000 and grossed $1,800 in 2003.
Today, "The Room" is acclaimed to be the worst movie ever produced and is often referred to as "The Citizen Kane of Bad Movies." It is a cult classic. Every year, there are sold-­out midnight screenings in cities across the country. One user on IMDB writes, "'The Room' is one of those rare laugh-­riots that is so fantastically inept as to border on genius. While most bad movies offer a handful of terrible scenes divided by stretches of just plain dull, writer-­ director-­producer-­star Tommy Wiseau's film offers one moment of disaster after another."
The screening in HBC Gifford will be a place for fans of the film and newcomers to experience the ironically entertaining love triangle thriller. There will be footballs, in representation of the infamous tuxedo-­football scene, as well as spoons which fans are known to throw at the screen whenever photographs of spoons appear, which is quite often. There will also be a photo op, among many other activities.
"The Disaster Artist" tells the real-life story behind Wiseau and his making of "The Room." It is based off the original film as well as the book "The Disaster Artist" in which author Greg Sestero, describes the making of "The Room," his role starring as Mark, and his relationship with Wiseau. The film is produced and directed by James Franco, who also plays Johnny. Supporting cast includes Seth Rogen, Alison Brie, Ari Graynor, Josh Hutcherson and Jacki Weaver. The film, distributed by A24, is set to have a limited release on Dec. 1 before opening widely on Dec. 8.
Students' votes and participation at the screening of "The Room" will determine the chance of University Union hosting a free screening of "The Disaster Artist" for Syracuse University. Voting is now open until 11:59 p.m. on Nov. 5 and can be cast here. The winning participating university will be selected on Nov. 8.
Closed captions will not be provided. If you require any additional services, please do not hesitate to contact Samantha Sarno, University Union Vice President at uuvicepresident@gmail.com. For further questions or concerns, contact Keely Higgins, director of public relations for University Union, at uupublicrelations@gmail.com and follow University Union on Facebook at www.facebook.com/universityunion, Twitter at http://www.twitter.com/universityunion, and Instagram at www.instagram.com/universityunion.