Campus & Community
University Hosts Disability Awareness Month
Throughout the month of October, the Disability Cultural Center (DCC) and campus partners are hosting events in celebration of Disability Awareness Month.  The events include an open house, an inclusive book exhibit, collaborating for Mental Health Awareness Week, movie screenings and much more.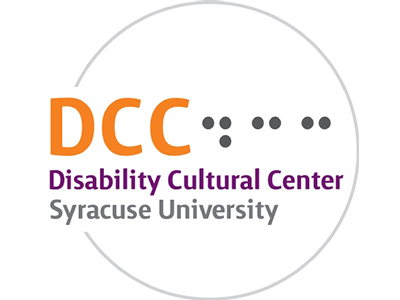 "We are pleased once again to host and to co-sponsor meaningful dialogues, social gatherings and educational activities for the campus community to celebrate and to center Disability Awareness Month, not just in October, but throughout the year," says Diane R. Wiener, director of the DCC.
In celebration of the month, an inclusive book display will be set up near the New Book shelves in Bird Library, outside the Peter Graham Scholarly Commons, room 114. This annual exhibit is the result of a collaboration between the Disability Student Union (DSU), Syracuse University Libraries, the DCC and the Disability Students Program. Questions about the display can be directed to Mary DeCarlo or Kate Deibel.
Also in celebration of the month, the first-ever gathering of the Beyond Compliance Coordinating Committee (BCCC), the Disability Law Society (DLS) and DSU student organizations will happen on Thursday, Oct. 19, from 11 a.m. to 2 p.m. in Schine 228B. Students can learn how BCCC, DLS and DSU are working together, meet other students, share ideas for access activism and enjoy free pizza and other snacks. American Sign Language (ASL) interpretation will be provided. Contact disability.su@gmail.com with questions and accommodation requests.
The DCC, Disability Studies Program and other campus partners, will next host "Disabilities as Ways of Knowing: A Series of Creative Writing Conversations—Disability as Part of the Story" on Tuesday, Oct. 24. This event will include a poetry reading with Ona Gritz and Daniel Simpson at 6:30 p.m. in Watson Theatre, followed by a reception and book signing at 7:30 p.m. near Light Work. The event is free and open to the public. ASL interpretation and Communication Access Realtime Translation (CART) will be provided during the poetry reading.  ASL interpretation will also be provided during the reception and book signing. Parking is complementary in Booth Garage and Marion Lot on a first-come, first-served basis, and the Q5 Lot has been designated for accessible parking. For other accommodation requests, or if you have any questions, please email the DCC.
Continuing the celebration, the DCC invites the campus community to attend the DCC Open House on Friday, Oct. 27, from 11 a.m. to 1 p.m. in 230 Schine Student Center. Inclusive snacks will be provided. ASL interpretation provided. If you require other accommodations or have questions, please email the DCC by Oct. 20.
On Friday, Oct. 27, at 10 p.m. in Schine 304ABC, the DCC is partnering with the Orange After Dark program to host a late-night screening of Marvel's "Logan." This inclusive screening will have open captioning and audio description and include a discussion following the film. ASL interpretation provided. Inclusive snacks served. No tickets needed. For other accommodation requests or if you have questions, please email oad@syr.edu by Oct. 20.
To close out the month, on Oct. 30 at 5 p.m. in Dineen Hall, the DLS will show "Bottom Dollars," a documentary that discusses how American laws allow people with disabilities to be paid sub-minimum wages. The event is open to the University. For more information and to request accommodations, contact Laura E. O'Brien.
For more information or questions about Disability Awareness Month, email the DCC.