Arts & Culture
Tony Award Winner for Best Play, 'Curious Incident of the Dog in the Night-Time' to Play at Syracuse Stage
Syracuse Stage brings a deeply moving and engaging experience with the Tony award-winning (Best Play) show "The Curious Incident of the Dog in the Night-Time," adapted by Simon Stephens from the original novel by Mark Haddon. "Curious Incident" is co-produced with the Indiana Repertory Theatre (IRT) and received rave reviews from IndyStar, part of USA Today's news network. It calls the play "a heart-warming coming-of-age story."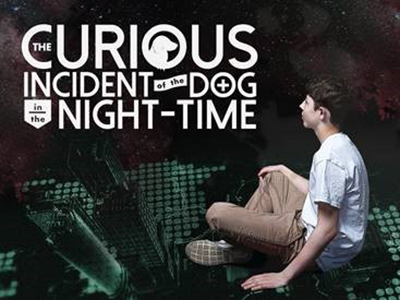 "Curious Incident" opens at Syracuse Stage on Oct. 27 in the Archbold Theatre at the Syracuse Stage/SU Drama Complex, 820 E. Genesee St. Preview performances are Oct. 25 and 26.
Syracuse Stage and IRT are among the first regional, nonprofit theaters to receive the rights to produce "Curious Incident," which has previously only played on Broadway, in London's West End and on national tour. This co-production is the first featuring an actor on the autism spectrum, Mickey Rowe, playing the lead role (also on the autism spectrum).
The lead in "Curious Incident" is 15-year-old Christopher Francis Boone, who is intent on solving a neighborhood mystery. Though Boone often struggles to make sense of the chaos around him, he performs feats of mathematical memory and calculation, observing the world with an instant perceptiveness. Along the way, Boone's determination and brilliance lead him to discover not only secrets about his family, but his own strength and courage.
Artistic director Bob Hupp says he is looking forward to having Rowe play such a powerful and complex lead role.
"He's (Rowe) not only a skilled actor, but also physically accessible," says Hupp. "The role of Boone is very demanding intellectually, emotionally and physically, and I believe that Mickey brings all of that to the table through his passion and authenticity as an actor."
Although Rowe had intensive speech therapy throughout elementary and middle school, he did not receive a formal diagnosis until he was a young adult. Rowe explains the importance of having people on the autism spectrum see themselves represented appropriately on stage and in media.
"The young actors in this country who have a disability need to see positive role models who will tell them that if you are different, if you access the world differently, if you need special accommodations, then theater needs you! The world needs you," says Rowe. "It is such an honor to represent the autistic community at the beautiful and incredible Indiana Repertory Theatre and Syracuse Stage. I am excited to be the first American actor to portray Boone because I have experienced some of the same challenges he has."
Set designer Russell Metheny further adds to this engaging storytelling by creating a setting in which scenes flow effortlessly from one to the next, forming an all-encompassing and surreal environment that will pull the audience into the story as it transcends from the written word to the stage.
Under the direction of director Risa Brainin, the ensemble cast will revolve around Rowe, making him the center of the action. The ensemble will interact seamlessly to create a story encompassing truth, love and hope.
"When I saw the play on Broadway, it was an experience that I had never had before in theater," says Hupp. "I think it's a fascinating story and gives insight into the lives of characters we may have never met on stage before. I am excited to see this story come to life with an incredibly talented creative team and cast."
Tickets are now available at www.SyracuseStage.org, by phone at 315.443.3275 and in person at the box office.