Campus & Community
The Attitude of Gratitude Challenge for Faculty and Staff
Did you know that gratitude makes your life more meaningful and joyful? Well, it does!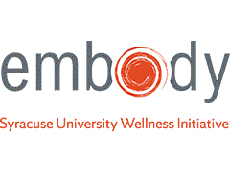 Through a practice of gratitude we can transform our lives, our minds and our bodies. Practicing gratitude can help soothe stress and give you a more positive outlook. This challenge will help to enhance your overall wellness and remind you of all there is to be grateful for.
Faculty and staff are invited to take the Attitude of Gratitude Challenge. It is a three-week, self-paced challenge designed to help you learn simple ways to add gratitude and feelings of thankfulness into your daily life.
Everyone who completes the challenge will be entered into a drawing to win one of five gratitude gift baskets. Participants who complete the challenge will have a bonus opportunity to receive a gratitude gift from us to you!
Questions? Email wellness@syr.edu or call 315.443.5472
Add your name to our email list to stay up to date on the latest wellness events.
Brought to you by the Syracuse University Wellness Initiative