Arts & Culture
Poets Explore Theme of Disability as a Way of Knowing at Oct. 24 Event
Poets Ona Gritz and Daniel Simpson will share verses from their book, "Border Songs: A Conversation in Poems," at a reading Tuesday, Oct. 24, in celebration of Disability Awareness Month.
The event, part of Disabilities as Ways of Knowing: A Series of Creative Writing Conversations, will be held at 6:30 p.m. in Watson Theater, with a reception and book signing from 7:30-8:30 p.m. The event is free and open to the public.
Organizers Steve Kuusisto, University Professor in the School of Education, and Diane R. Wiener, director of the Disability Cultural Center, say Gritz and Simpson, who are married, offer insights through their poetry that explore the theme of the series.
"One of the things Diane and I have been asking over the last few years is, essentially, 'how is disability a way of knowing?' Dan Simpson and Ona Gritz write poems that ask this same question. And like all good poets they find unexpected answers," Kuusisto says. "A good poem always leads the writer to a new place, or as Ezra Pound once said: 'poetry is news that stays news.'"
Kuusisto first met Simpson in 1995. They were both guide dog users attending a national conference on blindness. Kuusisto discovered Gritz through her writing before he met her in person at the Dodge Poetry Festival. He describes the rich dialogue the couple has crafted in their book of poems.
"Dan and Ona are two widely respected American poets who met later in their respective careers. Each happens to be disabled, and over time they decided to write poems back and forth to one another as a way to employ poetry in the service of dialogue—in a way this is what poetry has always done best, poets ask 'what is life like for you, here's what I know … ,'" Kuusisto says. "One may think of Emily Dickinson in this regard. As the poet James Tate once remarked, poetry 'starts a fire with our identification papers,' which is a nice way to say it warms us. Tate's line also suggests that poetry allows us to know ourselves and others in new ways. That's also part of what makes Dan and Ona's new book so striking—these are two wondrous writers!"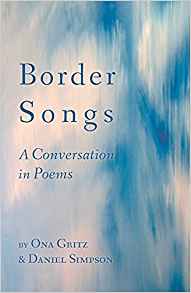 Gritz's poetry collection, "Geode," was a finalist for the 2013 Main Street Rag Poetry Book Award. Her poems have appeared in Ploughshares, Bellevue Literary Review, Seneca Review, "Beauty Is a Verb: The New Poetry of Disability" and many other journals and anthologies. Her other works include "Left Standing" (Finishing Line Press, 2005) and her memoir, "On the Whole: a story of mothering and disability" (Shebooks and Audible.com). Gritz was a columnist for Literary Mama and served, along with Simpson, as poetry editor for Referential Magazine.
Simpson's work includes his collection of poems, "School for the Blind" (Poets Wear Prada, 2014) and has appeared in Prairie Schooner, The Cortland Review, Hampden-Sydney Poetry Review, Passager, The Atlanta Review, The Louisville Review and The New York Times, among others. Cinquo Puntos Press published his essay "Line Breaks the Way I See Them" and four of his poems in "Beauty Is a Verb." He received a fellowship in literature from the Pennsylvania Council on the Arts. His blog, "Inside the Invisible," can be found at insidetheinvisible.wordpress.com.
"We are thrilled to welcome distinguished poets Ona Gritz and Dan Simpson to the Syracuse University campus for reasons too numerous to count, but particularly because their bold aesthetics and deep values broaden and enliven discussions and considerations of disability justice and all forms of equity," Wiener says.
Kuusisto encourages people to hear Gritz and Simpson and their powerful message through verse.
"Each of us has an important story to share. Creative writers are folks who've figured out they don't have to be shy about the matter," Kuusisto says. "Sometimes I like to think of literary writing, whether it's poetry, nonfiction, fiction or drama, as a record of each person's attempt to make sense of her, his, they, life—that Jeffersonian thing, the pursuit of happiness. Knowledge is happiness, even when it may not always seem so."
Along with their book, "Border Songs," other copies of their works will also be available for sale and for signing.
American Sign Language (ASL) interpretation will be provided during the poetry reading and the reception. Communication Access Realtime Translation (CART) will be provided during the poetry reading.
Parking is complimentary for the event. The Booth Garage and the Marion Lot will be available on a first-come, first-served basis. The Q5 Lot has been designated for accessible parking. For any questions pertaining to parking, contact Dee Bailey at debailey@syr.edu. For other accommodations, contact sudcc@syr.edu.
This event is made possible by the Co-Curricular Departmental Initiatives Program within the Division of Enrollment and the Student Experience, and is co-sponsored by the Disability Cultural Center and the Disability Studies Program, among others.