Campus & Community
Faculty, Staff Invited to Register for Financial Wellness Presentation
Are you feeling anxious about debt? You're not alone. Seventy-two percent of Americans said they felt stressed about money, with 22 percent feeling "extreme" stress (American Psychological Association).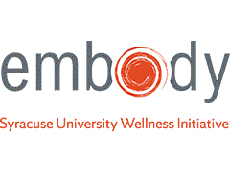 Dumping debt can be easier said than done—but it is a crucial, stress-relieving step in the journey to financial wellness.
All you have to do is simply decide that it's time to get out of debt. And guess what? There's never a better time to start dumping debt than right now!
Faculty and staff are invited to join Derek Brainard AFC®, financial literacy coordinator at Syracuse University, for a lunchtime conversation focusing on debt elimination goals and strategies.
Friday, Oct. 27
010 Eggers Hall
12:10-12:50 p.m.
Registration is now open, space is limited.
Questions? Email wellness@syr.edu or call 315.443.5472.
Add your name to our email list to stay up to date on the latest wellness events.
Brought to you by the Syracuse University Wellness Initiative