Campus & Community
Join Us for Retirement Planning Sessions
No matter what stage of your career you are in, planning for retirement is important. Syracuse University faculty and staff are invited to join the following free lunchtime sessions presented by TIAA that will describe the steps you can take to plan for a financially secure future.
Saving for your Ideal Retirement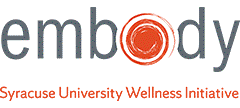 In the midst of a busy life and career, it's easy to forget that retirement is closer than you think. Join us for a presentation with TIAA on Tuesday, Sept. 19, to learn about the University's retirement plans, advantages of participating, and how to update your account with TIAA. After covering these basics, you'll learn how to create an effective plan to help you pursue your long-term retirement goals.
Tuesday, Sept. 19
Noon-1 p.m.
500 Hall of Languages
Understanding the University's Retirement Plan Investment Options
What's the formula for successful investing? You plus knowledge. That may mean learning what you need to know to make your own investment decisions, or discovering the tools and resources to help you along the way. Join us for a presentation with TIAA on Monday, Sept. 25, to learn about the investment options within the University's retirement plan, how they work, how to determine your risk tolerance as well as the tools and resources available to help you make your decision.
Monday, Sept. 25
Noon-1 p.m.
500 Hall of Languages
Don't forget! TIAA offers personalized financial planning services to help you reach your retirement goals. TIAA consultants are available to meet one-on-one with you, on campus or at their Syracuse office. You can also receive advice online and by phone. To speak with a TIAA Financial Consultant, or to schedule an on-campus retirement planning session, call 855.842.CUSE (2873), or visit TIAA today. As part of your SU benefits package, this service is available at no cost to you.
If you require accommodations for any of the above sessions, please contact the Wellness Initiative at 315.443.5472 or wellness@syr.edu.
Questions? Email wellness@syr.edu or call 315.443.5472
Add your name to our email list to stay up to date on the latest wellness events.
Brought to you by the Syracuse University Wellness Initiative