Campus & Community
Fire and Life Safety Services Schedules Drills
Fire and Life Safety Services (FLSS) will conduct the fall 2017 evacuation drills in academic and administrative buildings from Monday, Oct. 2, through Friday, Oct. 6. The building evacuation drills will be conducted in the morning between 9:30 and 11:30 a.m. or in the afternoon/evening between 1:30 and 9 p.m. A schedule of the evacuation drills by date and building can be viewed on the Department of Public Safety website at: http://dps.syr.edu/fire-safety/evacuation-drill-schedule/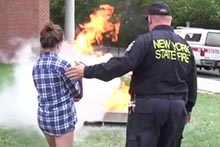 The drills are essential to enhance the effectiveness of the University's building evacuation plans by reinforcing occupant awareness of the procedures to follow when a building evacuation is necessary.
FLSS has worked with Academic Affairs in scheduling the drills to minimize the disruption of classes and research in academic buildings. Each building drill should last approximately 5-10 minutes.
To enhance the effectiveness of the drills, below are procedures to follow when evacuating a building:
As an occupant, know at least two ways to exit a building as there could be times when your primary means of egress is obstructed by smoke or material.
When the fire alarm sounds, lock your work area/office, take your keys and personal belongings with you and then immediately exit the building.
Do not use an elevator.
When exiting a building, do so calmly and quickly via the nearest exit.
Once outside, move a safe distance away from the building so that in the event of an actual building fire, emergency crews can get into the building.
During an extended evacuation, you may be instructed by University emergency response personnel to a designated short-term emergency evacuation center (Hendricks Chapel and Schine Student Center for North Campus or Goldstein Student Center and Manley Field House for South Campus).
For the purposes of the drill, do not re-enter the building until an "all clear" is given by FLSS or when the audible fire alarm is silent. In the event of an actual fire, the "all clear" for the building re-entry will be given by the City Fire Department or authority having jurisdiction.
The procedure for emergency evacuation for persons with disabilities will be followed by University officials during the drill. Persons may be asked to remain in the building by uniformed University officials.