Faculty, Staff invited to Living Well with Type 2 Diabetes Series
Knowledge is power! And the foundation of diabetes self-management is knowledge. The more you know about diabetes, the easier it may be to take care of yourself or your loved one. Improving self-management contributes to feeling good, which enables you to do the things that matter to you, as well as helping to minimize or delay the onset of complications.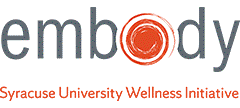 Faculty and staff are invited to attend this three-part Living Well with Type 2 Diabetes series. Certified Diabetes Educators will provide an overview of type 2 diabetes self-management, the basics of healthy eating and recommendations for exercise/physical activity.
Each session will be held in 500 Hall of Languages from 12:15-12:45 p.m.
Thursday, Sept. 21: What you Should Know to Live Well with Diabetes
Tuesday, Sept. 26: Healthy Eating and Diabetes
Thursday, Sept. 28: Get Moving to Help Manage Diabetes
Questions? Email wellness@syr.edu or call 315.443.5472
Add your name to our email list to stay up to date on the latest wellness events.
Brought to you by the Syracuse University Wellness Initiative