Campus & Community
Career Services Holds Annual Law and Graduate School Information Fairs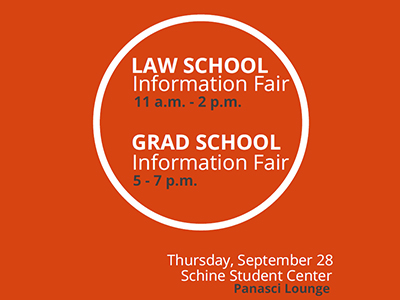 On Thursday, Sept. 28, Career Services will be hosting its annual Law and Graduate School Information Fairs. A day dedicated to helping students learn more about pursuing higher education after graduation, the events give students the chance to learn about opportunities right here at Syracuse University as well as at over 90 top colleges and universities. The Law School Information Fair will be held in the Panasci Lounge in the Schine Student Center from 11 a.m. to 2 p.m., the Graduate School Information Fair will also be held in the Panasci Lounge in the Schine Student Center and runs from 5-7 p.m.
According to the 2016 Syracuse University Outcomes Report, 24 percent of the 2016 graduating class went on to immediately attend graduate school after graduation, a six percent increase from the prior year. These events are held to help students navigate the initial stages of deciding whether law or graduate school is the right move after graduation and if so, which college or university is the right fit for them.
"The Law and Graduate School Information Fairs are a terrific opportunity for students to learn first hand about schools that are of interest to them," says Dan Olson-Bang, associate director of graduate and Ph.D. programs in Career Services. "In a time when more students are going to graduate school than ever before, these events can help students to make the best decisions possible about their future."
No registration is required. Students can visit orangelink.syr.edu to see a full listing of colleges and universities in attendance.
For questions about the event, students are encouraged to visit Career Services in 235 Schine or call 315.443.3616.