Arts & Culture
Urban Cinematheque 2017 Features over 20 Local Arts Organizations, Jordan Peele's 'Get Out'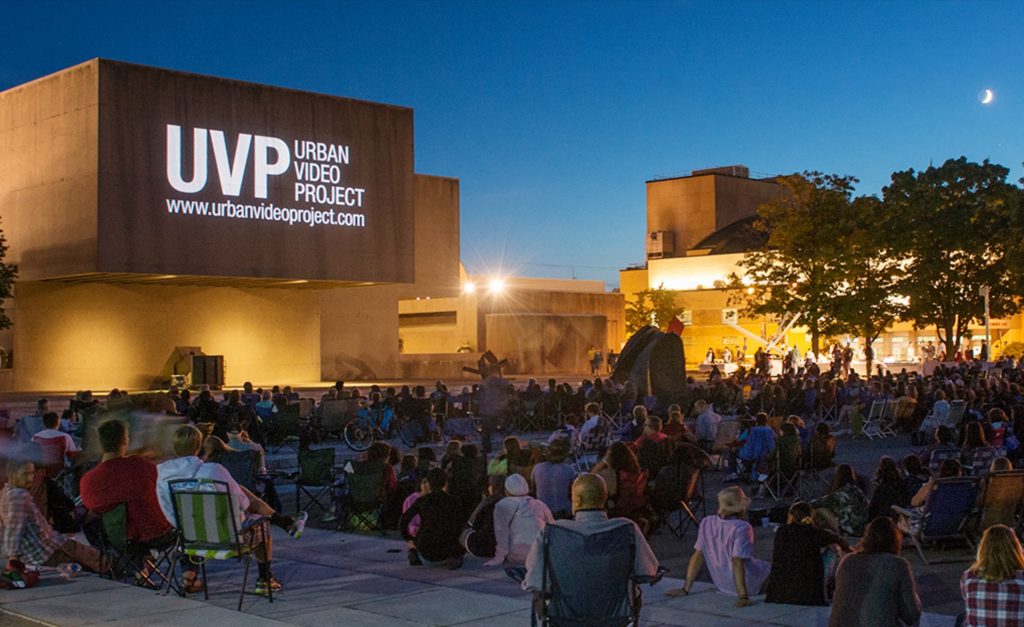 Urban Video Project (UVP) and Light Work will present Urban Cinematheque 2017, Friday, Sept. 1, 7 p.m. – 11 p.m. This year marks the sixth installment of this extremely successful end-of-summer event pairing a free outdoor film with an arts and culture fair.
The mission of Urban Cinematheque is to create a social space for the broader Syracuse community and the Syracuse University community to meet and engage with the thriving local arts scene.
This year's film selection will be Jordan Peele's critically acclaimed 2017 film, "Get Out." Using its extra-large venue high-definition projector, UVP will project the film onto the façade of the iconic Everson Museum of Art, making for a spectacular film screening in a venue truly unique to Syracuse.
About the Film
"Just because you're invited, doesn't mean you're welcome. " In this satirical thrill ride, "Get Out" (dir. Jordan Peele), Chris and his girlfriend, Rose, go upstate to visit her parents for the weekend. At first, Chris reads the family's overly accommodating behavior as nervous attempts to deal with their daughter's interracial relationship, but as the weekend progresses, a series of increasingly disturbing discoveries lead him to a truth that he could never have imagined.

About the Director
Jordan Peele is an Emmy and Peabody Award winner, and one of TIME magazine's "100 Most Influential People," Jordan Peele is the star and co-creator of Comedy Central's Key & Peele, a TV and internet sensation with over 900 million online hits. Peele was a series regular on "MADtv" and recurred on "Fargo," "Wet Hot American Summer," "Life in Pieces" and "Children's Hospital." Jordan has appeared on "Modern Family," "Workaholics," "The Mindy Project" and "Bob's Burgers." Jordan Peele made his directorial debut  with satirical  horror film, "Get Out." The "social thriller" debuted at #1 at the box office and is the largest grossing film to-date in 2017.
Arts & Culture Organizations
This year's Urban Cinematheque boasts a diverse range of arts and cultural organizations, including the Everson Museum of Art, Light Work, Community Folk Art Center, Syracuse Stage, 'Cuse Culture, Breadcrumb Productions, Sculpture Culture, Dance Theater of Syracuse, Open Figure Drawing, My Lucky Tummy and Urban Video Project among others.
Each participating organization will have a representative on hand with information about upcoming events, exhibitions and opportunities to become involved, as well as interactive art experiences for the audience to engage with.
Food
Free popcorn and lemonade will be provided. Additional planned festivities include multiple (pay) food truck vendors, including Chicken Bandit, Recess Coffee & Roastery, and Byblos Café.
Seating & Transportation
The entire event is free and open to the public. Audience members who are able to do so are advised to bring blankets or portable chairs. Limited seating will be available on a first-come, first-served basis. Street parking as well as pay parking lots are ample in the immediate vicinity.
Charter buses will run every 15 minutes between Schine Student Center (on Waverly Avenue) on the Syracuse University campus and the Everson Plaza from 7:30-10:30 p.m. The event may also be accessed for free via the Centro Connective Corridor bus line.
Sponsors & Partners
Urban Cinematheque 2017 is presented in partnership with the Everson Museum of Art and Onondaga County Office of the County Executive.
Urban Cinematheque 2017 is made possible through the generous support of CNY Arts with additional support from Syracuse New Times.