Campus & Community
Syracuse Loses a Legend: Remembering 'Coach Mac'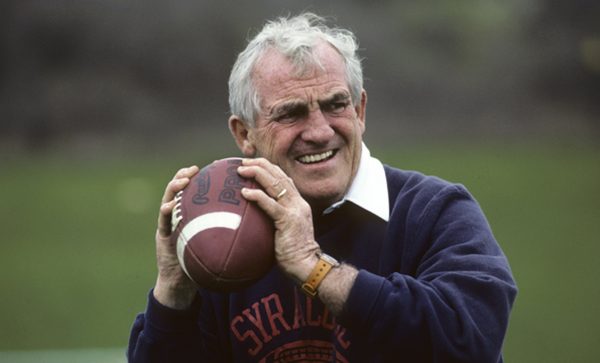 Richard F. "Dick" MacPherson, who guided the Syracuse football team to an undefeated season in 1987 and five bowl games in 10 seasons as head coach, passed away on Aug. 8. He was 86 years old.
[Editor's Note (Update Thursday, Aug. 10): Calling hours will be held today (Thursday, Aug. 10) from 5 to 8 p.m. in Hendricks Chapel. Parking will be available in Campus West lots (Standart, Fine, Stadium). A shuttle bus service will begin at 4:30 p.m. Hendricks Chapel will open at 5 p.m. The memorial service will be held Friday, Aug. 11, at 2 p.m. in Hendricks Chapel. Parking will be available in Campus West lots (Standart, Fine, Stadium) and at Manley Field House. A shuttle bus service will begin at noon. Hendricks Chapel will open at noon.]
The beloved "Coach Mac" arrived at Syracuse in 1981 and built the football program into a national championship contender during his tenure. His teams produced a 66-46-4 (.586) record, including a 4-1 mark in bowl competition, and were ranked as high as fourth in the national polls.
MacPherson guided the second unbeaten squad in program history – the 1987 team posted an unblemished 11-0 regular-season record and tied Auburn, 16-16, in the Sugar Bowl. He was the consensus pick for national coach of the year that season, earning the recognition from 12 different groups including the American Football Coaches Association, the Football Writers Association of America, and the NCAA.
In his final five seasons with the Orange, MacPherson coached Syracuse to a 36-10-3 record.
After the 1990 season, MacPherson was named head coach of the NFL New England Patriots.
He was inducted into the College Football Hall of Fame in 2009.
Birth Of A Coaching Great
MacPherson was born on November 4, 1930, in Old Town, Maine, the second youngest of 12 children. At Old Town High School, he played high school football, basketball and baseball and graduated in 1948. He enrolled at Maine Maritime Academy and then served in the U.S. Air Force from 1950-54 during the Korean War.
MacPherson returned to school at Springfield College, where he earned his bachelor's degree in 1958. He was a center and linebacker on the football team, a member of the Chiefs' undefeated 1956 squad, and served as team captain as a senior. It was at Springfield that he met his future wife, the former Sandra Jean Moffitt, when both were sophomores. His alma mater awarded him with induction into the Springfield College Athletic Hall of Fame in 1988.
MacPherson had earned entry into the Maine Sports Hall of Fame in 1985.
MacPherson's Coaching Career
MacPherson's first coaching stop was at Illinois where he was a graduate assistant coach with the freshman team while working on his master's degree. He moved on to Massachusetts as freshman coach for two years and then took an assistant's post at Cincinnati under Coach Chuck Studley.
Lou Saban hired MacPherson at Maryland in 1966 and then, when the Denver Broncos selected Saban as head coach, he brought MacPherson with him.
MacPherson returned to New England to lead the University of Massachusetts program in 1971. He led the Minutemen to a 45-27-1 record (.778), four Yankee Conference Championships, and was a two-time selection as the New England Coach of the Year.
He returned to the NFL as an assistant coach on the staff of Sam Rutigliano with the Cleveland Browns from 1978-80 before his hiring as the 25th head coach at Syracuse by then-athletics director Jake Crouthamel. Syracuse had made just one bowl appearance in the previous 14 years when Crouthamel turned to MacPherson, who he had worked against while the head coach at Dartmouth.
An Orange Rebuild
MacPherson helped orchestrate one of the most impressive re-construction jobs in college football history. Leading up to his hiring, Syracuse had posted a 34-55 (.382) record during the most recent eight seasons. The Orange had not recorded an above .500 mark since a 7-5 record in 1979.
It was not an easy process for MacPherson and his staff. Consecutive seasons of 4-6-1 and 2-9 featured significant growing pains for the Orange without many positive results on the scoreboard. After two years of swimming against the tide, Syracuse began to show signs of life. In 1983 the team won its last three games, including two against nationally ranked Boston College (#12) and West Virginia (#15), to finish 6-5.
One year later, MacPherson's group sent a loud message to the college football world by defeating number- one Nebraska, 17-9. The Orange ended up 6-5 again but the program's once-proud reputation had been restored.
MacPherson's 1985 club earned an invitation to the Cherry Bowl, the school's first bowl berth since 1979. Syracuse started slow the following campaign before regrouping with wins in four-of-the-last-five games to end up 5-6 and set the table for the remarkable 1987 season.
The Year Of The Orange
Everything came together for MacPherson's crew in 1987. The Orange opened with a 25-11 win against Maryland, the start of an 11-game winning streak. When Syracuse won back-to-back encounters at Virginia Tech (35-21) and Missouri (24-13), the team improved to 5-0 and subsequently made its first appearance in both national polls since the start of the 1971 season.
The sixth game of the campaign put the Orange up against long-time rival Penn State before more than 50,000 fans in the Carrier Dome. The Nittany Lions had trounced Syracuse the year before, 42-3, and came into the game ranked 10th nationally. Don McPherson opened the contest with an 80-yard touchdown pass to Rob Moore and the Orange jumped out to a 41-0 advantage before the game ended in a Syracuse victory, 48-21.
The Penn State triumph put Syracuse in the top 10, a position it had not held since 1968. Four more victories followed before a critical pairing with West Virginia to close the regular season. McPherson provided heroics again, connecting with Pat Kelly on a 17-yard touchdown pass with 10 seconds left to pull the Orange within one, 31-30. Coach MacPherson instructed his club to play for the win and Michael Owens did just that, finding the end zone after taking a pitch from McPherson for the two-point conversion and a 32-31 triumph.
With the quest for an undefeated season and a national championship still alive, fourth-ranked Syracuse was invited to the Sugar Bowl and a matchup with #6 Auburn. Syracuse trailed 13-10 in the third quarter but two field goals from Tim Vesling put the Orange up, 16-13. MacPherson's defensive charges kept the Tigers out of the end zone as time wound down and Auburn coach Pat Dye opted to play for a tie. Win Lyle converted a 30-yard field goal as time expired and the contest ended even, 16-16.
More Mac Success
The unbeaten season started the most successful run of Orange gridiron success. It was the first of 15 straight winning campaigns for Syracuse. In 1988, MacPherson's group overcame a loss at Ohio State in the second game of the season to finish 10-2, including a victory versus LSU in the Hall of Fame Bowl.
Bowl berths followed in 1989, when Syracuse defeated Georgia in the Peach Bowl, 19-18, and the following season, which ended with the Orange beating Arizona in the Aloha Bowl, 28-0.
The run of prosperity earned MacPherson an offer to be head coach of the New England Patriots. He accepted the position and served for two years before completing his coaching career.
MacPherson The Mentor
During his tenure at Syracuse, MacPherson put together some of the most talented coaching staffs in the country. He employed and mentored future college head coaches Gary Blackney (Bowling Green), Randy Edsall (Connecticut, Maryland), Jim Hofher (Cornell, Buffalo), Bill Maxwell (Hobart), George O'Leary (Georgia Tech, Central Florida), Paul Pasqualoni (Syracuse, Connecticut), and Jim Tressel (Youngstown State, Ohio State).
On-Air Orange
Following his retirement from coaching, MacPherson moved to the broadcast booth, working for BIG EAST TV. He was also a radio analyst for Syracuse football games, first on game-day coverage for local station WSYR and later as part of the program's official radio network. He teamed with Dave Pasch, the voice of the Arizona Cardinals and college football and basketball on ESPN, as well as current Voice of the Orange Matt Park.
The MacPherson Family
He survived by his wife, Sandra, his daughters Maureen and Janet, and four grandchildren (Richard "Macky," Cameron and Susan MacPherson and Molly Sweeney). His grandsons, Macky and Cameron, played football at Syracuse, where Macky is currently in his second season as a graduate assistant coach.
MacPherson's Coaching History
1958 Illinois Assistant Freshman Coach
1959-60 Massachusetts Freshman Coach
1961-65 Cincinnati Assistant Coach
1966 Maryland Assistant Coach
1967-70 Denver Broncos Assistant Coach
1971-77 Massachusetts Head Coach
1978-80 Cleveland Browns Assistant Coach
1981-90 Syracuse University Head Coach
1991-92 New England Patriots Head Coach