Campus & Community
Fall Lineup Announced for 17th Season of the University Lectures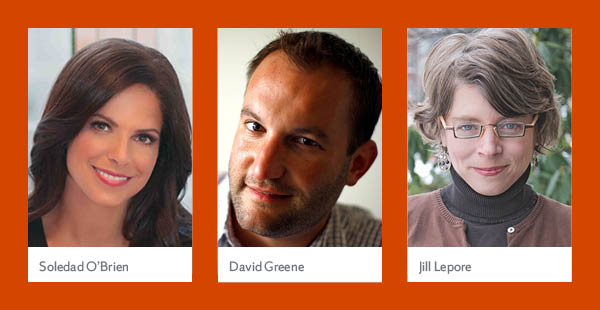 The University Lectures series will host three prominent speakers this fall: an award-winning journalist, documentarian and network news anchor; the co-host of NPR's "Morning Edition;" and a celebrated historian and author of "The Secret History of Wonder Woman."
The 17th season of Syracuse University's premier speaker series begins Sept. 14 with Soledad O'Brien and continues Oct. 3 with David Greene, followed Nov. 9 by Jill Lepore.
Tickets for O'Brien's lecture in the Schine Student Center's Goldstein Auditorium are on sale online beginning Monday, Aug. 28, and are $5 for SU-SUNY-ESF students with I.D., $10 for the public and free to Coming Back Together registrants. Greene's and Lepore's lectures will be in Hendricks Chapel and are free.
The spring lineup of speakers is still being finalized and will be announced in late fall.
The University Lectures was created through, and is supported by, the generosity of alumnus Robert B. Menschel '51. The cross-disciplinary series brings to Syracuse University notable guest speakers of exceptional accomplishment who share their diverse global experiences and perspectives. American Sign Language (ASL) interpretation and Communication Access Realtime Translation (CART) are available at each lecture.
Appearing this fall
Soledad O'Brien
Thursday, Sept. 14
6:30 p.m., Goldstein Auditorium, Schine Student Center
as part of Coming Back Together 2017
O'Brien has established herself as one of the most recognized names in broadcasting by telling the stories behind the most important issues, people and events of the day. In 2013, O'Brien launched Starfish Media Group (SMG), a multi-platform media production and distribution company dedicated to uncovering and producing empowering stories that take a challenging look at the often divisive issues of race, class, wealth, poverty and opportunity through personal narratives.
O'Brien was the originator of the highly successful CNN documentary series "Black in America" and "Latino in America." Through SMG, O'Brien produces additional programming for CNN as well as for Al Jazeera America in the form of documentaries and feature stories. She also is a correspondent for HBO's "Real Sports with Bryant Gumbel" and hosts specials for the National Geographic Channel.
Earlier in her career, O'Brien co-anchored "Weekend Today" on NBC and contributed segments to the "Today" show and "NBC Nightly News." In 2003, she joined CNN, where she anchored the morning news program. O'Brien's coverage of race issues has won her two Emmy Awards, and she earned a third for her reporting on the 2012 presidential election. Her coverage of Hurricane Katrina for CNN earned her and the network a George Foster Peabody Award. She also won a Peabody for her coverage of the BP Gulf Coast oil spill, and her reporting on the Southeast Asia tsunami helped CNN win an Alfred I. DuPont Award.
O'Brien was named journalist of the year in 2010 by the National Association of Black Journalists and was one of Newsweek's "10 People who Make America Great" in 2006. In 2013, Harvard University, her alma mater, named O'Brien a Distinguished Fellow. That same year, she was also appointed to the board of directors of the Foundation for the National Archives.
O'Brien's visit is sponsored in cooperation with Syracuse University's Office of Program Development.
David Greene
Tuesday, Oct. 3
7:30 p.m., Hendricks Chapel
Greene is host of NPR's "Morning Edition"—as well as NPR's morning news podcast, "Up First"—with Steve Inskeep and Rachel Martin. For two years prior to taking on his current role in 2012, Greene was an NPR foreign correspondent based in Moscow, covering the region from Ukraine and the Baltics east to Siberia. During that time, he brought listeners stories as wide ranging as Chernobyl 25 years later and Beatles-singing Russian babushkas. He spent a month in Libya reporting riveting stories in the most difficult of circumstances as NATO bombs fell on Tripoli; he was honored with the 2011 Daniel Schorr Journalism Prize from WBUR and Boston University for that coverage of the Arab Spring.
Greene's voice became familiar to NPR listeners from his four years covering the White House. To report on former President George W. Bush's second term, Greene spent hours in NPR's spacious booth in the basement of the West Wing (it's about the size of an average broom closet). He also spent time trekking across five continents, reporting on White House visits to Afghanistan, Iraq, Mongolia, Rwanda, Uruguay and Crawford, Texas.
Greene was an integral part of NPR's coverage of the 2008 election, covering Hillary Clinton's campaign from start to finish and focusing on how racial attitudes were playing into voters' decisions. The White House Correspondents Association took special note of Greene's report on a speech by then-candidate Barack Obama, addressing the nation's racial divide. Greene was presented with the association's 2008 Merriman Smith award for deadline coverage of the presidency.
After President Obama took office, Greene kept one eye trained on the White House and the other eye on the road. He spent three months driving across America to learn how the recession was touching Americans during Obama's first 100 days in office. The series was titled "100 Days: On the Road in Troubled Times."
Before joining NPR in 2005, Greene spent nearly seven years as a newspaper reporter for the Baltimore Sun. He covered the White House during the Bush administration's first term and wrote about an array of other topics for the paper: why Oklahomans love the sport of cockfighting, why two Amish men in Pennsylvania were caught trafficking methamphetamine and how one woman brought Christmas back to a small town in Maryland.
Greene's visit is sponsored in cooperation with the Maxwell School of Citizenship and Public Affairs.
Jill Lepore
Thursday, Nov. 9
7:30 p.m., Hendricks Chapel
Lepore is the David Woods Kemper '41 Professor of American History at Harvard University and a staff writer at the New Yorker. Among her publications is the New York Times Best Seller "The Secret History of Wonder Woman" (Knopf, 2014), winner of the 2015 American History Book Prize. Her most recent book is "Joe Gould's Teeth" (Knopf, 2016). She is currently writing a history of the United States.
Lepore has been contributing to The New Yorker since 2005, writing about American history, law, literature and politics. Three of her books derive from her New Yorker essays: "The Mansion of Happiness: A History of Life and Death" (Knopf, 2012), a finalist for the Carnegie Medal for Excellence in Nonfiction; "The Story of America: Essays on Origins" (Princeton, 2012), shortlisted for the PEN Literary Award for the Art of the Essay; and "The Whites of Their Eyes: The Tea Party's Revolution and the Battle for American History" (Princeton, 2010), a Times Book Review Editors' Choice.
 Her earlier work includes a trilogy of books that together constitute a political history of early America: "The Name of War: King Philip's War and the Origins of American Identity" (Knopf, 1998), winner of the Bancroft Prize, the Ralph Waldo Emerson Award and the Berkshire Prize; "New York Burning: Liberty, Slavery and Conspiracy in Eighteenth-Century Manhattan" (Knopf, 2005), winner of the Anisfield-Wolf Award for the best nonfiction book on race and a finalist for the Pulitzer Prize; and "Book of Ages: The Life and Opinions of Jane Franklin" (Knopf, 2013), TIME's Best Nonfiction Book of the Year, winner of the Mark Lynton History Prize and a finalist for the 2013 National Book Award for Nonfiction.
In addition to The New Yorker, Lepore's essays and reviews have appeared in The New York Times, the Times Literary Supplement, the Journal of American History, Foreign Affairs, the Yale Law Journal, American Scholar and the American Quarterly. They have been translated into Chinese, French, German, Italian, Japanese, Latvian, Portuguese, Spanish and Swedish, and have also been widely anthologized, including in collections of the best legal writing and the best technology writing.
Lepore joined Harvard's history department in 2003 and was chair of the history and literature program in 2005-10, 2012 and 2014. In 2012, she was named Harvard College Professor, a recognition of distinction in undergraduate teaching. Since 2015, she has been an affiliated faculty member at the Harvard Law School. Much of Lepore's scholarship explores absences and asymmetries of evidence in the historical record, with a particular emphasis on the histories and technologies of evidence and of privacy. A prize-winning professor, she teaches classes in evidence, historical methods, the humanities and American political history.
In 2014, Lepore was elected to the American Academy of Arts and Sciences and to the American Philosophical Society. She is a past president of the Society of American Historians and a former commissioner of the Smithsonian's National Portrait Gallery.
 Lepore's visit is sponsored in cooperation with the Maxwell School of Citizenship and Public Affairs.
The University Lectures welcomes suggestions for future speakers. To recommend a speaker, or to obtain additional information about the series, write to lectures@syr.edu.
For up-to-date information on the series, visit the University Lectures website and follow on Facebook.