STEM
4 Questions for Lab Manager Sam Sampere on Solar Eclipse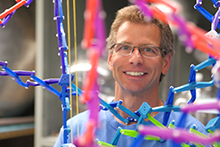 On Monday, a wide swath of the United States will be within view of a total solar eclipse, in which the moon blocks out the sun. With Syracuse and Central New York in the path of this unique occurrence, we asked Department of Physics Lab Manager Sam Sampere what to expect and how best to view a total eclipse of the sun.
01

What's the best way to view the eclipse?

To view the eclipse, viewers can do one (or more) of several choices: 1) come to SU and join the party on the Quad (I will have two telescopes and a couple hundred pair of SAFE glasses.); 2) visit the Museum of Science and Technology in downtown Syracuse (MOST), which is hosting a party; or 3) make a pinhole or other similar projector and watch the image.

Do not watch the eclipse with your eyes or through sunglasses. Harmful amounts of light will reach your retina causing potentially irreversible damage.

Eclipses are not rare. Every year, two at most, somewhere on earth experiences a total solar eclipse. We just don't see them here very often. The last really good eclipse visible in Syracuse happened in 1994. This was an annular eclipse though, not a total eclipse. It's almost total, just not 100 percent.

03

What will we actually see?

People will notice the sky getting dimmer. About 70 percent of the sun will be blocked by the moon. It will seem like we're reaching dusk in the early afternoon, the temperature will likely drop a degree or more. It will be like a very cloudy day.

04

As a someone interested in science, what excites you most about this eclipse?

The most exciting part is that this "discrepant" event is a great opportunity to generate interest and excitement about science, learning, etc. Who knows, maybe some kid gets really pumped by this, gets engulfed by science and becomes a great scholar someday. What's really cool, is that in April 2024, Syracuse will be in the path of a total solar eclipse. So 2017 is just a warm up for the really big event!