Campus & Community
SU Ambulance Emergency Vehicle Parking Cover Construction Update
Construction is underway on the SU Ambulance emergency vehicle parking cover located in lot Q2 adjacent to Machinery Hall. Traffic should not be impacted during this project, and any impacted parking spots will be relocated throughout campus.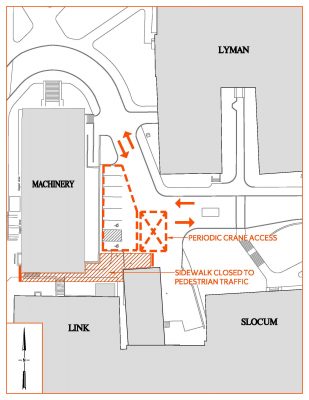 From July 6 until the project is completed, the walkway between Link Hall and Machinery Hall will be closed to pedestrians due to its close proximity to the construction site. Emergency egress pathways from Link Hall will be maintained at all times, and signs will be posted on the impacted exterior doors indicating emergency exit only.
If you have any construction-related questions, comments or suggestions, please email cpdc@syr.edu. For parking concerns, call Parking and Transit Services at 315.443.4652. If you have questions pertaining to accessibility, contact Aaron Hodukavich, director and ADA coordinator in the Office of Equal Opportunity, Inclusion and Resolution Services, at 315.443.2377 or ajhoduka@syr.edu.