Health & Society
Nilab Mobarez G'16 Heads Afghan Red Crescent Society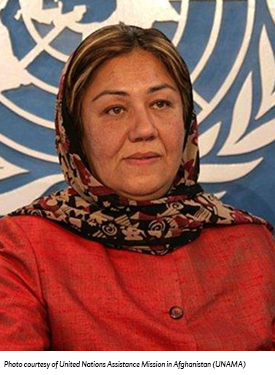 Nilab Mobarez G'16, a graduate of the executive master of public administration program at the Maxwell School, has been appointed secretary general of the Afghan Red Crescent Society. Founded in 1934, the Afghan Red Crescent Society is the Afghan affiliate for the International Federation of Red Cross and Red Crescent Societies—the world's largest humanitarian network. The Afghan Red Crescent Society performs a large range of humanitarian duties in Afghanistan, including disaster management, health services, and youth development. In her role as secretary general, Mobarez is responsible for managing the organization's headquarters, 34 provincial offices and 2,000 staff members.
Mobarez's position as secretary general comes on the heels of a long and distinguished career in medicine, public policy, government, education and nonprofit administration. From 2007 to 2015, she served as the national spokesperson for United Nations Assistance Mission in Afghanistan. Prior to that, she spent more than 20 years as a surgeon and as an associate professor with Kabul Medical University, after earning an M.D. from the same institution in 1984. In addition, she played a vital role, as the CEO of a French NGO, in building a teaching hospital for pediatric surgery in Kabul, and she is the founder and/or board member of multiple nonprofit organizations.
Mobarez's remarkable accomplishments become even more impressive considering the difficulties she faced in her home nation of Afghanistan. From 1989 to 2001, after civil war and the eventual rise of the Taliban, she was forced to immigrate to France as a refugee. In November of 2001, however, after the fall of the Taliban, she returned to her country to take an active part in its rebuilding. In 2004, she was one of three female candidates running for the office of vice candidate in the first direct Afghan presidential elections and she was a member of the Loya Jirga—an elected body that helped usher in democracy in post-2001 Afghanistan.
Aside from these humanitarian achievements, Mobarez also has a successful track record as an author with a long list of publications, which includes three co-authored books—"Femmes Afghanes," "Expedition Paris-Kabul" and "Afghanistan, La Mémoire Retrouvée"—and several articles about medical issues in Afghanistan. In 2014, she was awarded a Fulbright scholarship, which supported her pursuit of the executive master's degree in public administration (and certificates in conflict resolution and in leadership of international and nonprofit organizations) at Maxwell.