Media, Law & Policy
Maxwell Provides Executive Training for India's IAS Senior Officers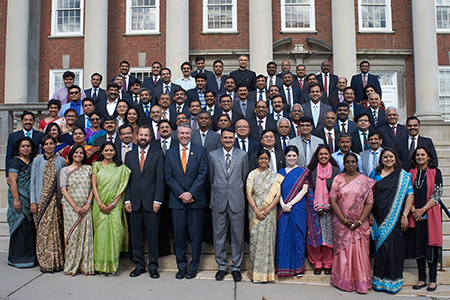 The Maxwell School has been awarded a multi-year contract by the Government of India to develop and deliver executive training for senior Indian Administrative Service (IAS) officers.
The IAS is India's premier civil service whose members occupy top positions in the state and federal governments of India. IAS officers participating in this program have approximately 15 years of experience and are serving in senior positions across India. The executive training program focuses on building the officers' understanding of the latest developments in public policy, administration and governance, while also developing the officers' capacity for formulating policy and managing large government systems.
The Maxwell School is partnering with the Lal Bahadur Shastri National Academy of Administration, India's premier institution dedicated to training officers of the country's higher civil services with a mission to promote good governance. Approximately 80 senior officers, representing every state in India, are participating in 2017. The partnership with the Maxwell School, secured through a highly competitive international bidding process, represents a unique connection with the Government of India and a foreign institute of higher education.
The Maxwell School's unique connection with India has existed for over half a century. Thousands of Government of India officials have sought to further their education and skills at the Maxwell School, including through its many professional degree programs, certificate programs and customized executive education programs. The Maxwell-India partnership began in the 1950s with Dean Paul Appleby working with Prime Minister Nehru and Senator Daniel Patrick Moynihan. In addition to its curricular offerings, Maxwell maintains deep ties to the region through its many research centers and institutes and faculty scholarship at the Maxwell School.
Additional information regarding the Maxwell and India connection can be found at http://india.syr.edu/.