Campus & Community
fullCIRCLE Mentoring Program Opens Application for Faculty, Staff Mentors
The fullCIRCLE Mentoring Program in the Office of Multicultural Affairs welcomes its sixth cohort of mentees and peer mentors at the start of the 2017-18 academic year. It is now recruiting faculty and staff mentors to provide consistent support to sophomore, junior and senior peer mentors and to serve as positive role models. Faculty and staff who are interested in serving as mentors are encouraged to apply now. The deadline is July 26.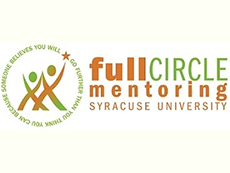 Established in the spring of 2012, fullCIRCLE has served over 300 undergraduate students, and more than 60 faculty and staff members have served as mentors. The faculty and staff mentors who have participated share that the experience has been a positive one.
Jenna Turman, assistant director of alumni programs in Career Services, says, "It is important to me to step outside my comfort zone, and fullCIRCLE offered something unique—the chance to build a relationship not only with a current student, but an opportunity to grow and learn something new."
"The most valuable memories are during graduation ceremonies when their parents approach me and thank me for being there for their daughters through thick and thin," says Kal Srinivas, director for access and retention in the Office of the Associate Provost for Academic Affairs.
The fullCIRCLE Mentoring Program aims to help its participants adjust to college life and be more successful in their academic, social, professional and personal lives. It serves undergraduate students with an emphasis on Black/African American, Asian American/Pacific Islander, Hispanic/Latinx American and Indigenous/Native American students. The peer mentors are sophomores, juniors and seniors who are supporting first-year and transfer students during their transition to college life at Syracuse University. The faculty and staff mentors are paired with the peer mentors to help them strengthen their network and connections on campus.
"I was interested in participating in fullCIRCLE due to its ability to positively impact retention and persistence for students from underrepresented backgrounds," says Jonathan Hoster, undergraduate recruitment specialist at the College of Engineering and Computer Science.
For some faculty and staff mentors, their experience with their own mentors is what inspired them to mentor others. Robin Higgins, program coordinator for the Intergroup Dialogue Program, says she benefited from a mentor when she began to work. Higgins wants to assist students in the same way.
"Last year was my first year as a mentor. My mentee [and I] developed both a formal and informal relationship," says Higgins. "We were able to discuss how classes and her life at SU were going. She was balancing a lot and it felt rewarding to me to be able to offer her some suggestions, as well as talk through what she either needed to talk about or just vent. It is important to be a good listener, and I developed a stronger development in myself while mentoring this past year."
Many mentors echo these sentiments of development and growth, as they learn a lot from their mentees throughout the experience. "The ability to have coffee or grab lunch with a current student, and hear about the ups and downs of college life today is not only nostalgic as I reflect back to my own experiences, but also inspiring as I look to the future of higher education, career services and the overall world of work," says Turman.
As mentors, faculty and staff will connect with their mentees bi-weekly, encourage their skill development in the areas of leadership, communications and collaboration, and support their academic success, career exploration and intercultural exchange.
"I encourage SU faculty and staff to apply to be a mentor for fullCIRCLE," says Hoster. "The time commitment is very reasonable and the program allows mentors to play an important role in the success of our mentees."
For more information, visit the fullCIRCLE webpage or contact the Office of Multicultural Affairs at 315.443.9676.
Story by Yue Shi G'17, communications intern, Division of Enrollment and the Student Experience