Campus & Community
Four Accomplished Alumni to Receive Arents Awards During Orange Central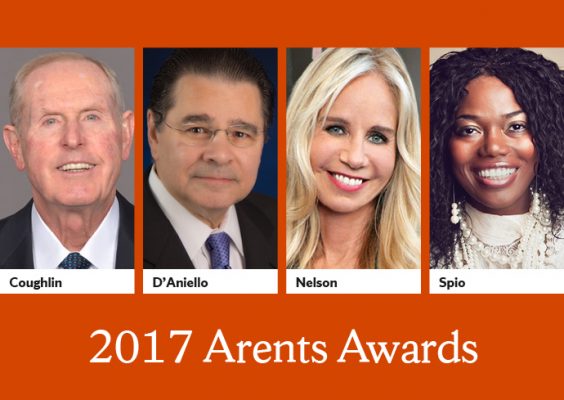 This fall during Orange Central, the Syracuse University Alumni Association will recognize four exceptional alumni for excellence and innovation in their fields during the Arents Awards Celebration. The Arents Award is Syracuse University's highest alumni honor.
The 2017 Arents Award recipients boast diverse and successful backgrounds. They are: Tom Coughlin '68, G'69, a decorated National Football League coach; Daniel A. D'Aniello '68, co-founder of a successful global asset management company and a committed philanthropist; Diane Nelson '89, president of DC Entertainment and Warner Bros. Consumer Products; and Mary Spio '98, a pioneer in digital cinema and virtual reality.
The Arents Award honors the legacy of George Arents, a successful manufacturer who served on the Syracuse University Board of Trustees from 1930 until his death in 1960.
The Arents Awards Celebration on Friday, Oct. 6, will begin with a cocktail party from 5-6 p.m. in the Panasci Lounge, Schine Student Center, followed by a dinner and awards presentation from 6-8:30 p.m. in Goldstein Auditorium, Schine Student Center.
For more information about the Arents event or any of the more than 50 Orange Central programs, go here.
Tom Coughlin '68, G'69
Coughlin is the executive vice president of football operations for the Jacksonville Jaguars of the National Football League (NFL), overseeing the Jaguars' day-to-day football operations. His decorated NFL career spans 29 years, including 20 seasons as a head coach.
Coughlin coached the New York Giants to Super Bowl championships in 2008 and 2012. His overall coaching record of 182-157 (a .537 winning percentage) is 12th on the NFL's all-time coaching wins list, and his 12 playoff wins rank seventh in league history. Coughlin, who recently earned a spot in the Giants' Ring of Honor, also served as the NFL's senior advisor to football operations before the Jaguars hired him in January 2017.
Coughlin was a three-year letter winner on the SU football team for Hall of Fame head coach Ben Schwartzwalder. He was part of the feared Orange backfield alongside future college and pro football Hall of Famers Larry Csonka '68 and Floyd Little '67. During his senior season (1967), Coughlin led Syracuse in both receptions and receiving yards as the Orange compiled an 8-2 record and the No. 12 ranking in the final United Press International (UPI) poll. He graduated from Syracuse University with a B.A. from the College of Arts and Sciences and an M.A. from the School of Education.
Coughlin was appointed Syracuse's assistant freshman coach in 1968, and after serving as head coach at Rochester Institute of Technology, he came back to SU as the offensive backs coach in 1974 and spent seven years as an Orange assistant. He also served as an NFL assistant coach for seven years, and was Boston College's head coach for three seasons before landing the Jaguars' head coaching position for their inaugural season in 1995.
Coughlin led the expansion Jaguars to 72 wins and four playoff appearances, including two American Football Conference (AFC) championship games, from 1995-2002. UPI honored Coughlin as its 1996 NFL Coach of the Year after he led Jacksonville to the AFC championship game in the team's second season.
Off the football field, Coughlin and his wife, Judy, founded the Tom Coughlin Jay Fund Foundation, which helps families tackle childhood cancer by providing financial, emotional and practical support. The fund honors the memory of Jay McGillis, one of Coughlin's student-athletes on the Boston College football team. McGillis passed away from leukemia in 1992.
The Coughlins reside in Atlantic Beach, Florida. They have two daughters, Keli and Kate, as well as two sons, Brian and Tim, and 12 grandchildren.
Daniel A. D'Aniello '68
D'Aniello, a Syracuse University Life Trustee, serves as chairman and co-founder of the Carlyle Group, a global alternative asset management company based in Washington, D.C.. The Carlyle Group boasts 35 offices across six continents, with over $160 billion in assets under management.
Prior to forming Carlyle in 1987, D'Aniello served as vice president for finance and development at Marriott Corp., where he assessed the worth of major corporate mergers, acquisitions, divestitures, debt and equity offerings, and project financings. Before joining Marriott, he served as a financial officer at PepsiCo Inc. and Trans World Airlines.
D'Aniello earned a bachelor's degree in transportation economics from the Martin J. Whitman School of Management, graduating magna cum laude. He was a member of the Beta Gamma Sigma honor society for undergraduate and graduate scholars in business programs, the highest recognition a business student can receive in an Association to Advance Collegiate Schools of Business program. He earned an M.B.A. as a Teagle Foundation Fellow from the Harvard Business School in 1974.
In addition to his service to the University's Board of Trustees, D'Aniello is a member of the Chancellor's Council and the Whitman School's Corporate Advisory Council. He is co-chairman and a strong supporter of the Institute for Veterans and Military Families.
D'Aniello served in the U.S. Navy from 1968 to 1971, during which he was a supply officer aboard the USS Wasp (CVS 18). In 2016, he received the prestigious Lone Sailor Award from the United States Navy Memorial Foundation. The award honors sea service veterans who have distinguished themselves in their subsequent careers and lives, while exemplifying the core values of honor, courage and commitment.
D'Aniello is co-chairman of the American Enterprise Institute for Policy Research; a member of the U.S.–China CEO and Former Senior Government Officials' Dialogue of the U.S. Chamber of Commerce; a member of the Council for United States and Italy; an advisor to the John Templeton Foundation; chairman of the Wolf Trap Foundation for the Performing Arts; and a founding trustee of the Lumen Institute.
D'Aniello and his wife, Gayle, reside in Vienna, Virginia. They have two daughters, Dana F. Ziegler '04 and Bethany D'Aniello.
Diane Nelson '89
Nelson is president of DC Entertainment (DCE) and Warner Bros. Consumer Products (WBCP). Nelson oversees a vast portfolio of stories and characters for DCE, including such cultural icons as "Batman," "Superman," and "Wonder Woman," across all media and platforms. Nelson also strategically integrates the DC, Vertigo and MAD brands throughout Warner Bros. Entertainment and all its content and distribution businesses.
Nelson took over leadership of DCE in 2009, and under her watch, the comic book publisher has collaborated with studio colleagues on the development of television projects, feature films, blockbuster video games and a host of other headline-making initiatives. During Nelson's time as president, Advertising Age named DCE one of America's hottest brands. In collaboration with Warner Bros. Television, Nelson has brought more DC TV shows on the air than ever before. DC's 2017 film slate, in partnership with Warner Bros. Pictures, has featured "The LEGO Batman Movie," "Wonder Woman" and "Justice League." In partnership with Warner Bros. Interactive Entertainment, DC is home to the most successful super hero game franchise in the industry—"Batman: Arkham."
At Warner Bros. Consumer Products, Nelson works with divisional management on the group's global business strategies and execution to optimize Warner Bros.' portfolio of film, television and animation properties. WBCP represents some of the world's most highly regarded entertainment franchises, including DC and J.K. Rowling's Wizard World ("Harry Potter" and "Fantastic Beasts"). WBCP also manages a successful global-themed entertainment business, featuring the groundbreaking "The Wizarding World of Harry Potter."
Nelson previously served as president and chief content officer of Warner Bros. Interactive Entertainment, where she guided the development of a slate of top-tier digitally powered console and mobile games, including those based on DC characters. In addition, Nelson served as president of Warner Premiere; executive vice president, global brand management, for Warner Bros. Entertainment; and executive vice president of domestic marketing for Warner Bros. Pictures.
A graduate of the S.I. Newhouse School of Public Communications (advertising) and the College of Arts and Sciences (English), Nelson joined the company in 1996 as director of worldwide corporate promotions and held several other positions with the studio.
Active in philanthropy, Nelson serves on the board of There with Care, a Boulder, Colorado-based nonprofit organization that supports families with children affected by critical illnesses.
Mary Spio '98
Spio is the CEO and president of CEEK VR Inc., a developer of innovative virtual and augmented reality content solutions and experiences. Her companies have created content and technologies used by such global titans as Lucas Films, Universal Music Group, Miami Children's Hospital, Microsoft XBOX, Tribune News, Clear Channel and Boeing.
Under Spio's leadership, CEEK has created virtual reality experiences for entertainment, health care and education. CEEK VR's recent virtual reality experience produced for Universal Music Group won the prestigious Silver CLIO award, edging out Disney's Star Wars and Intel's Lady Gaga Experience in the same award category. The Universal Music virtual reality experience also captured a 2017 Grammy Award for Best Performance.
A veteran of the U.S. Air Force, Spio holds several patents in real-time streaming and virtual reality technologies. Spio is an accomplished novelist and screenwriter ("A Song for Carmine") and bestselling author ("It's Not Rocket Science: 7 Game-Changing Traits for Achieving Uncommon Success"), in which she shares inspirational stories meant to spur readers to move beyond their comfort zones to create impact and significance.
Spio earned a bachelor's degree in electrical engineering from the College of Engineering and Computer Science, and a master's degree in electrical engineering and computer science from Georgia Institute of Technology.
An innovation and entrepreneurship evangelist, Spio works with the U.S. Department of State in a global innovation and entrepreneurship outreach program. Born in Syracuse and raised in Ghana, Spio has traveled extensively, giving presentations in dozens of countries, including China, Mexico, Russia, Pakistan, Ukraine and South Africa.
Spio's visionary work has earned her the Yueh-Ying Hu Memorial National Award for Innovation, the Boeing Outstanding Achievement in Electrical Engineering Award and Essence magazine's New Power Generation Award. Along with Oprah Winfrey, Spio landed on NBC News's 100 History Makers in the Making. Spio currently serves on the advisory boards of Amazon Launchpad and Oculus VR for Good.