Health & Society
Dessa Bergen-Cico: We are all 'Same Same, but Different'
Since June 12, Dessa Bergen-Cico, associate professor of public health in Falk College, has been participating in a three-month Rotary Peace Fellowship at Chulalongkorn University in Bangkok, Thailand. The program covers such areas as peace, conflict prevention and resolution.
For the past seven years, Bergen-Cico has been working with local peace activists, former gang members and the greater Syracuse community to address the impact of violence on trauma and addictions. "I feel that it is more important now, perhaps more than ever, for people to practice non-violence—in our words and actions—and to learn strategies for effectively modeling, teaching and cultivating mediation, negotiation, conflict transformation and non-violence," says Bergen-Cico.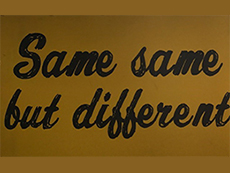 Recently, Bergen-Cico wrote a blog post for Rotary that was widely circulated. The post has to do with how we are all the same but different, and how this is reflected in Thai culture, and around the world. You can read it here.