Campus & Community
Alumni Association to Host New Student Send-Offs
The Syracuse University Alumni Association (SUAA) will host a series of New Student Send-Off events this summer to welcome the newest members of the Orange family.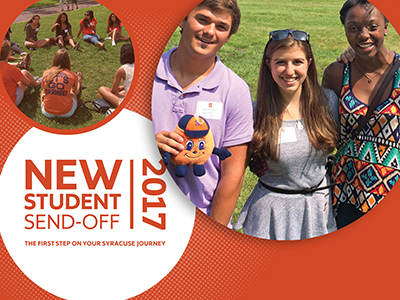 Hosted in partnership with SU's regional alumni clubs, members of the Board of Trustees, individual alumni and/or SU parents, these gatherings offer incoming first-year students and their parents the opportunity to get to know current students and other new SU families. Attendees can network with alumni while showing off their Orange spirit, and all new students will receive a special Syracuse gift.
"New Student Send-Offs offer a chance to have questions answered, get to know your new classmates and hopefully alleviate any fears about the unknowns of going to college," says Kate Ludwig, assistant director of affinity programs in the Office of Alumni Engagement.
"Many new students have already connected via social media, so this gives them the chance to meet fellow new students and ensure they will know a familiar face when they get to campus," Ludwig adds.
This summer, the SUAA is offering New Student Send-Offs to parents and incoming students in 43 cities in 20 states across the country. Send-offs will also be held in Hong Kong, Taipei, Dubai and Puerto Rico. Volunteer support from SU alumni drives the success of these events. If you are interested in assisting with one, contact your local alumni club by visiting cc.syr.edu/clubs.
These send-offs serve as signature events for SU's regional alumni clubs, and the hard work and dedication of alumni club volunteers ensure these send-offs run smoothly.
Additionally, on Aug. 14, the SUAA will partner with the Office of First Year and Transfer Programs to host a 'Cuse Q-and-A for incoming students and their families. Carrie Grogan Abbott, director of first year and transfer programs, will share important last-minute information and answer questions via Facebook LIVE at 1 p.m. EDT. The Q-and-A can be viewed live on the Syracuse University Alumni Facebook page, and the video will be available on the page following the live event.
For more information, call Kate Ludwig in the Office of Alumni Engagement at 315.443.3258 or email sendoff@syr.edu.