Health & Society
Stretch and Breathe Continues through Aug. 18, Various Days and Locations
Discover the benefits of our new offering, Stretch and Breathe! It's a 20-minute class for faculty and staff designed to help you unplug and clear your mind. You will relax your mind, body and soul. It will be the best part of your day!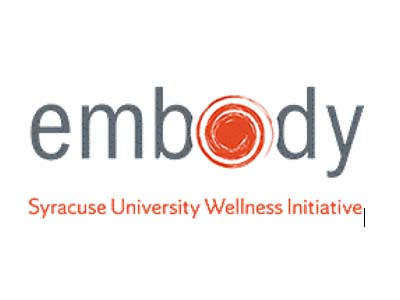 Power down for 20 minutes before you power back up for a focused and productive afternoon:
Mondays, through Aug. 14 (*No class June 26, July 3 or July 24)
500 Hall of Languages
12:10-12:30 p.m.
Wednesdays, through Aug. 16 (*No class July 5 or July 26)
Outside Skytop Office Building, on the lawn to the left side when facing the front of the building
*Indoor alternative for inclement weather: Skytop, 2nd floor Large Conference Room
12:10-12:30 p.m.
Fridays, through Aug. 18 (*No class July 7, July 21 or July 28) 
500 Hall of Languages
12:10-12:30 p.m.
All levels of experience and need welcome. No registration or workout attire required, but bring a yoga mat or towel. Chairs will also be available as needed.
For complete details, http://wellness.syr.edu/blog/stretch-and-breathe/
Questions? Email wellness@syr.edu or call 315.443.5472
Add your name to our email list to stay up to date on the latest wellness events.
Brought to you by the Syracuse University Wellness Initiative