Veterans
Military Veterans to Attend Academic Boot Camp at Syracuse University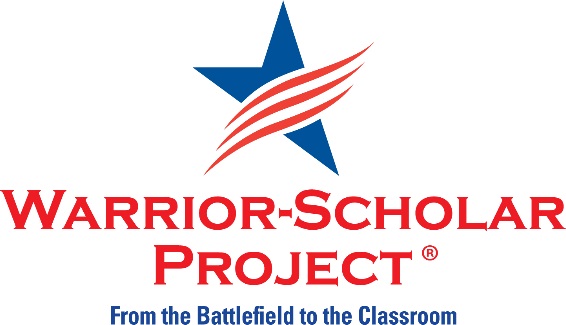 For some military veterans, the first day of school at a new college or university is as challenging as a deployment to a foreign country. Immersion in a new culture and reintroduction to a demanding academic environment can make the transition from military to higher education difficult. To ease the transition, the Warrior-Scholar Project (WSP) is hosting an intensive one-week academic boot camp at Syracuse University beginning Sunday, June 18.
The Warrior-Scholar Project coordinates immersive academic preparation courses for enlisted military veterans of any skill level at America's top universities. The program is designed to help military veterans develop and rediscover the skills and confidence necessary to successfully complete four-year undergraduate degrees. Because veterans are non-traditional students with unique experiences distinguishing them from their college peers, WSP also uses the boot camps to help prepare participants for the emotional and cultural adaptations required to succeed in a higher education setting.
"We are proud to host a Warrior-Scholar Project Academic boot camp at Syracuse University for the 2017 year," says  Sidney Ellington, executive director of WSP. "The program at Syracuse will tap into the immense potential of post-9/11 veterans and reduce obstacles to success, addressing veterans' misperceptions about college and building their confidence through an intense academic reorientation."
WSP launched its first program at Yale University in 2012 with nine participants. Since then, WSP has expanded to encompass 12 top schools, including Syracuse University, and is on track to host more than 200 veterans at boot camps across the country in 2017. In addition to Syracuse University, WSP graduates have gone on to enroll at top schools including Yale, Harvard and Georgetown universities.
"Stepping onto a college campus is intimidating for anyone, and can be even more so for active or veteran service members," says Mike Haynie, vice chancellor and executive director of the Institute for Veterans and Military Families at Syracuse University. "The important role the Warrior-Scholar Project plays in engaging these military members with universities around the U.S. is vital to their future career success. We are proud to be a part of that work, and we look forward to hosting this year's participants this summer to share our educational experience with them."
Each WSP boot camp is run by a team of student veterans, and taught by university professors and graduate students. An intensive syllabus composed of both classic and modern scholarly works guides participants as they learn how to frame their ideas in an academic context, think critically and formulate scholarly arguments. Participants not only learn the subject-matter material; they learn how to learn.
"Because of their technical training and diverse, cross-cultural experiences, military veterans have much to contribute to higher education, beyond their strengths in discipline, teamwork and resilience," says Corri Zoli, chair, WSP Board of Academic Advisors, and director of research, Institute for National Security and Counterterrorism at Syracuse University. "Yet too often veterans are an uncommon sight at four-year colleges. The presence on Syracuse University's campus of venerable veterans' programs such as the Defense Comptrollership Program and the Military Visual Journalism Program means our partnership with WSP is a natural fit, and it works exceptionally well. As an instructor, I can attest to how this college readiness program strives to make veterans part of a wider academic conversation and to become campus leaders."
"This course was a rigorous challenge which prepared myself to succeed in my studies at Syracuse University," says Adam LeGrand, WSP program alumnus. "The focused reading and writing skills have enabled me to anticipate earning honors this past semester; I highly recommend this course to any veteran considering returning to higher education. The contacts and support I have received in my goals of attending law school from WSP staff and alumni have by far been the most important outcome for myself."
WSP funders and private donors cover the entire cost of the program for participants, excluding travel. Student veterans attending Syracuse University boot camp will reside in campus housing and attend lectures in various classrooms.
To learn more about the program, visit www.warrior-scholar.org.