Veterans
Institute for Veterans and Military Families Receives 'Seal of Approval' Among Top Nonprofits in New Philanthropy Guidebook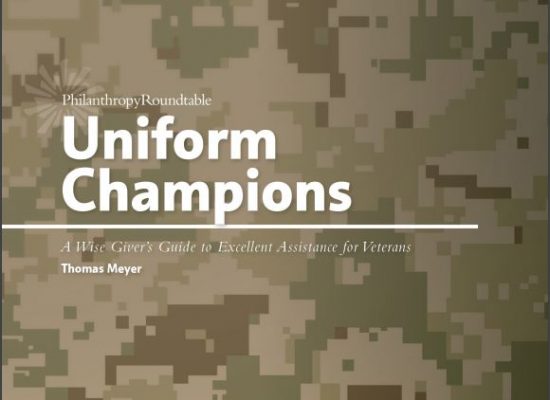 Philanthropy Roundtable—a leading network of charitable donors working to strengthen our free society, uphold donor intent and protect the freedom to give—recently launched its latest guidebook, "Uniform Champions: A Wise Giver's Guide to Excellent Assistance for Veterans." The book highlights the work of the Schultz Family Foundation and The Heinz Endowments in collaboration with the Institute for Veterans and Military Families (IVMF) at Syracuse University.
Thomas Meyer, author and director of veterans services at Philanthropy Roundtable, encapsulates the stories of well-known donors in the United States—a mix of corporate benefactors and charitable institutes. Chapter two, "Brewing Up Jobs: Starbucks's Howard Schultz helps veterans and employers sit down together," and chapter six, "Assets Not Victims: The Heinz Foundation sees vets as a competitive advantage," give information as to why the top philanthropic donors are choosing the IVMF as the best place to give back to the military community.
In 2012, The Philanthropy Roundtable established a dedicated program in the area of veteran philanthropy to assist donors eager to offer charitable assistance to the men and women who served the country. The product of this roundtable is the first published guidebook, "Serving Those Who Served: A Wise Giver's Guide to Assisting Veterans and Military Families," which profiled organizations and donors who were making strides in this field. This guidebook captures the outcomes of service members transitioning from military careers to civilian ones.
For a free copy of "Uniform Champions," click here.