Campus & Community
Graduating Seniors Heading to Senior Celebration on Thursday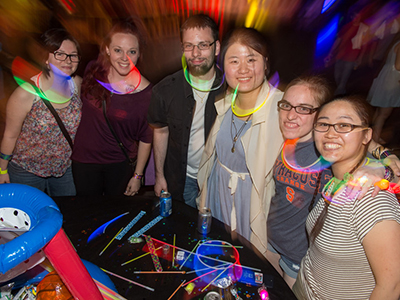 On Thursday, May 11, graduating seniors will pack the War Memorial in downtown Syracuse for Senior Celebration 2017.  The end-of-year bash is free for seniors.
Each year, the Office of Student Activities sponsors the event and works with the students on the Traditions Commission and Homecoming Court to plan the theme and activities. This year's group is bringing the beach to Syracuse, with a beach-themed celebration complete with glow-in-the-dark volleyball. Other activities include glow-in-the-dark mini-golf, photo booths and dancing. There is also free food and beverages, with beer available for purchase for students over 21 with valid I.D.
Transportation is provided to and from the event at Schine and Goldstein student centers, College Place and the Westcott/Euclid intersection beginning at 8:30 p.m. and continuing throughout the night. The event goes from 9 p.m. to 1 a.m.
Tickets are available now at the Schine Box Office. Seniors may also purchase one guest ticket for $12.
For more information, contact the Office of Student Activities at 315.443.2718.