Arts & Culture
Department of Drama Announces 2017/18 Season
Great music, classics, comedy, a carnivorous space alien and a high-flying partnership with New York's 2 Ring Circus highlight the Syracuse University Department of Drama's 2017/18 season. From Gershwin to Chekhov, from Paula Vogel to Isabel Allende, the season offers a rich and wide-ranging celebration of theatrical experiences.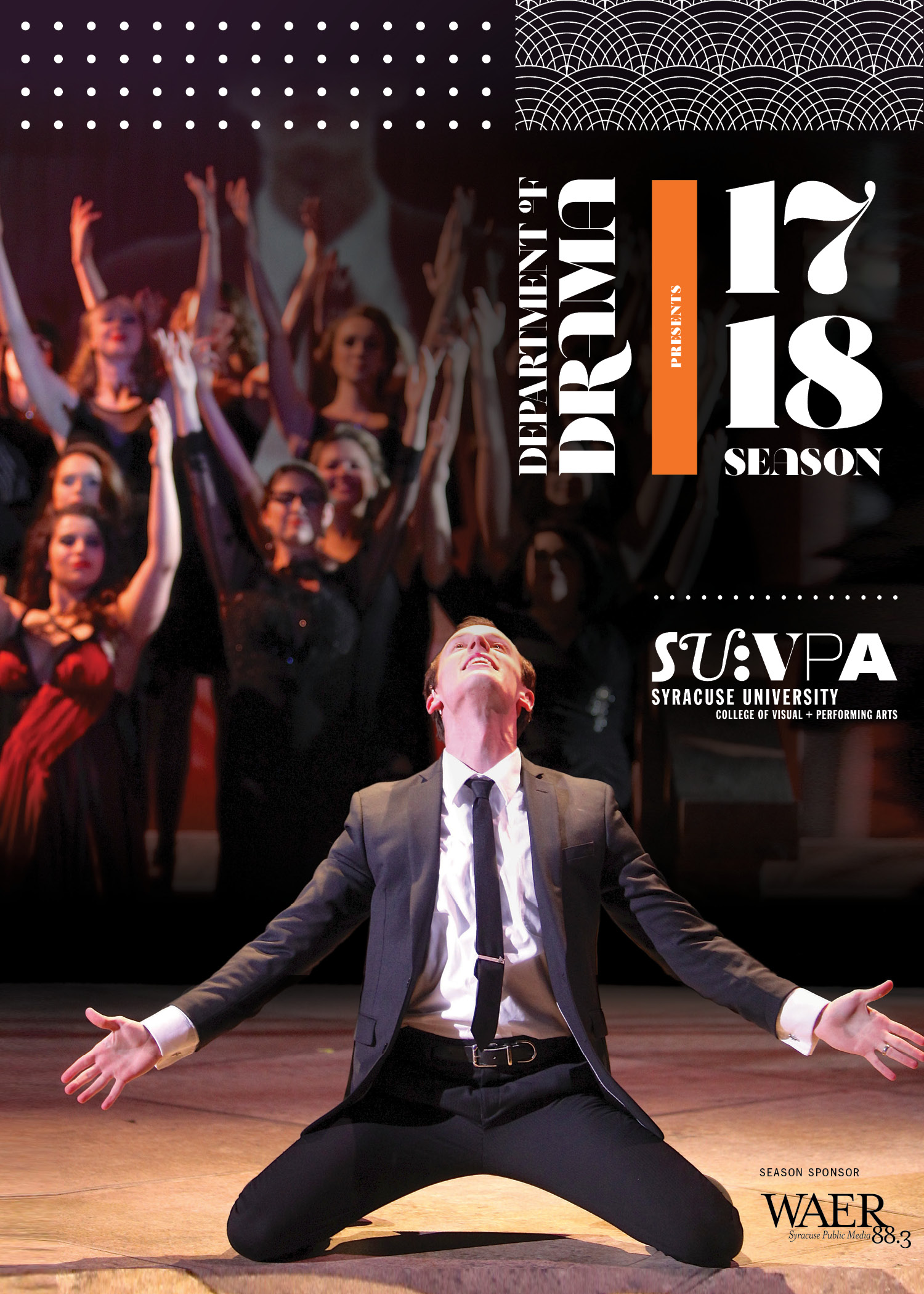 "We are fortunate to have such talented faculty and students, all of whom want to engage with so many different kinds of theatrical experiences," department chair Ralph Zito. "As in recent seasons, we look forward to meeting the artistic challenges presented by these musicals and plays, and we are equally excited about sharing them with our audience."
The season opens in style with the songs of George and Ira Gershwin and the delightful "Crazy for You." With a boy-meets-girl-let's-put-on-show story by Ken Ludwig, this romantic musical comedy played more than 1,600 performances on Broadway, where it earned the 1992 Tony Award for Best Musical and was deemed "riotously entertaining" by The New York Times' Frank Rich.
The season-opening festivities will be followed by a gripping adaptation of Isabel Allende's best-selling and critically acclaimed debut novel, "The House of the Spirits." Set in an unnamed South American country, not unlike Allende's native Chile, "The House of the Spirits" relates a time-bending tale of three generations of women from the Trueba family and their relationships with the family patriarch, Esteban. Originally commissioned and produced in Spanish by Repertorio Espaňol in New York City, "The House of the Spirits" was first performed in an English language version at the Denver Center Theatre Company and was honored with the 2011 American Theatre Critics Association Primus Prize.
The holiday season marks the return of the annual Syracuse Stage/Department of Drama co-production and the return of the beloved classic "The Wizard of Oz." Adding an extra level of fun and excitement to this family favorite is choreography by 2 Ring Circus, a New York-based company that specializes in cirque-like acrobatics and has collaborated with theaters around the country.
From a classic American musical to a classic of the modern stage, the season continues in the new year with Anton Chekhov's "The Seagull." Unrequited love and artistic aspiration drive the lives of Chekhov's characters, especially Nina and Konstantin, the young couple in the play's center. In Chekhov's world, ambition and desire are not enough. Perseverance is what matters.
Paula Vogel ("How I Learned to Drive" recently at Syracuse Stage and the Tony-nominated "Indecent" currently on Broadway) wrote her 1992 Obie Award-winning play "The Baltimore Waltz" in response to her brother's death from complications from AIDS. In the play, she imagines a wild European adventure for a brother and sister—Vogel and her brother had planned such a trip—that turns into a quest for a cure for a fictional disease. Though broadly funny, "The Baltimore Waltz" has been hailed by critics as "a profound and timeless play about death and grief and remembrance."
The season closes with the ever-popular "The Little Shop of Horrors." With music by Alan Menken ("The Little Mermaid," "Beauty and the Beast," "The Lion King" and many more), this quirky, comic musical ran for five years Off-Broadway before becoming a Broadway hit and a major motion picture.
The Department of Drama season runs Oct. 6, 2017, through May 12, 2018. Season subscriptions ($99) and flexible 4Packs ($60) are available through the Syracuse Stage Box Office (315-443-3275) or at www.SyracuseStage.org. Discounts are available for seniors, students and Syracuse University employees.
"Crazy for You"
Oct. 6-15
"The House of the Spirits"
Nov. 10-18
"The Wizard of Oz"
Nov. 29-Dec. 31
"The Seagull"
Feb. 23-March 4
"The Baltimore Waltz"
March 30-April 8
"The Little Shop of Horrors"
May 4-12