Campus & Community
44 Stars Recognizes Student Leaders, Organizations and Advisors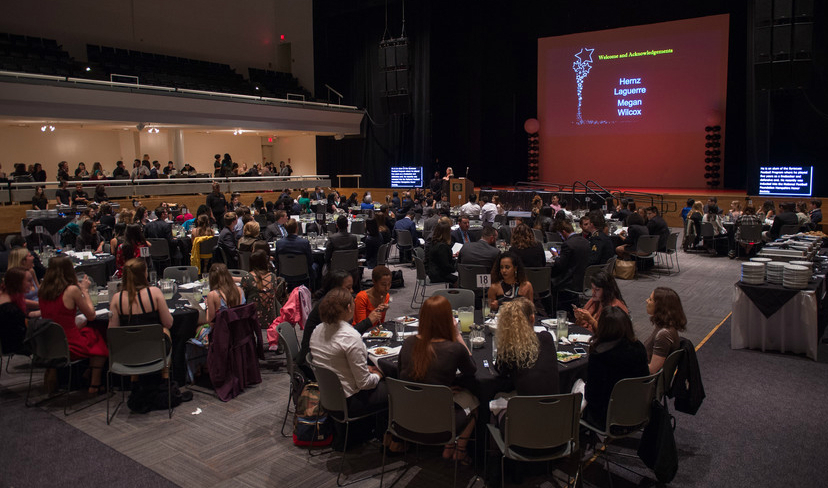 At the annual 44 Stars of Excellence Awards Gala on April 20, students, registered student organizations and organization advisors were celebrated and recognized for their many contributions to the campus community. The ceremony is sponsored by the Office of Student Activities, with co-sponsorship from Macy's/Bloomingdales.
This year's award winners were:
One University Award
Presented to those who recognize that the whole is greater than the sum of parts and aim to bring University stakeholders together for a common purpose.
James Franco
Kristen Unangst
Traditions Commission
University Union
Public and Community Service Award
Presented to those who have exhibited exceptional effort in planning and implementing significant service projects for the University and Syracuse community.
Eric Anthony
Joi James
Gamma Phi Beta
Orange Pulse Dance Troupe
Most Outstanding Media or Publication
Presented to organizations that consistently produce publications or media that represent the organization in a positive manner, promote events and activities at the University, and have a consistently high readership.
Baked Magazine
WJPZ
Office of Student Activities Award for Creativity and Ingenuity
Presented to those who have made conscious efforts to promote, plan, implement and diversify programming, and have created new and innovative events for the Syracuse University community.
Asian Students in America
Macy's Rising Star Award
Presented to those who have made a significant impact at Syracuse University and in the Syracuse community through their innovative programming, membership recruitment, service and commitment.
Garett Roush
Lambda Theta Alpha Latin Sorority, Inc.
MEDLIFE
Syracuse University Spirit Award
Presented to two students who have demonstrated pride in Syracuse University by promoting, attending and being involved in a variety of student organizations and events demonstrating to other students the importance of being a true Orange fan.
James Franco
Cameron Spera
Student Centers and Programming Services Award for Excellence in Programming
Presented to organizations that have demonstrated excellence in programming through successful efforts in planning and implementing a variety of events for students.
Lambda Theta Alpha Latin Sorority Inc.
University Union
Associate Vice President's Award for Positive Advocacy
Presented to those who have been the most effective in promoting the goals and objectives of an organization or a movement throughout the campus and community in a positive and proactive manner.
Tori Cedar
Russell Nylen
Camp Kesem
Democracy Matters
Panhellenic Council
Award for Cultural Diversity
Presented to those who have demonstrated a sincere commitment to promoting cultural diversity by serving as advocates for cultural awareness on campus and in the community.
Fatmawati "Wati" Tuyulawe
Kevin Yueng
African Student Union
Phi Iota Alpha Fraternity, Inc.
Office of Multicultural Affairs' Irma Almirall-Padamsee La Fuerza Community Enhancement Award
Presented to graduating students in recognition of their outstanding contributions and commitment to diversity and for their energy, spirit and leadership in initiating and implementing actions that help our campus community beyond tolerance and create dialogue among people from diverse cultural groups.
Emily Dang
Ashani Logan
Saphyir Moody
Francis Morency
Career Services' Emerging Professional Award
Presented to a first-year student who has demonstrated significant potential for leadership and made significant efforts to get involved early in career exploration and preparation at the University.
Diana Azizyan
Award for Excellence by an Organizational Advisor
Presented to organization advisors who demonstrate outstanding commitment to an organization by providing mentorship to the organization and its leadership, supporting organizational programs and events, and ensuring successful leadership transitions.
Jonathan Hoster, Traditions Commission
Kaylah Wicks, Residence Hall Association
Bloomingdale's Entertainers of the Year Award
Presented to organizations that made the most significant and positive contributions to the community through performances and advocacy for the performing arts.
Danceworks
Outlaws Dance Troupe
Award for Excellence by an Organization President
Presented to organization presidents who have demonstrated outstanding dedication and service to their student organization and enhanced their individual organization and the Syracuse University community through their leadership and service.
Patrick Castle, Student-Athlete Advisory Committee
Lorena Kanzki, Otto's Empire Belly Dance Troupe
John Miccio, Student Veterans Organization
Senior Vice President's Award for Outstanding Senior Leadership
Presented to graduating seniors who have demonstrated dedication to developing themselves, others and the University through their involvement and leadership in the classroom and student organizations. These students are strong academically, active in the community, and serve as role models to their peers.
Joyce LaLonde
Andrew Ramos
Nedda Sarshar