Campus & Community
2017 Make Your Mark Giving Effort Kicks Off Today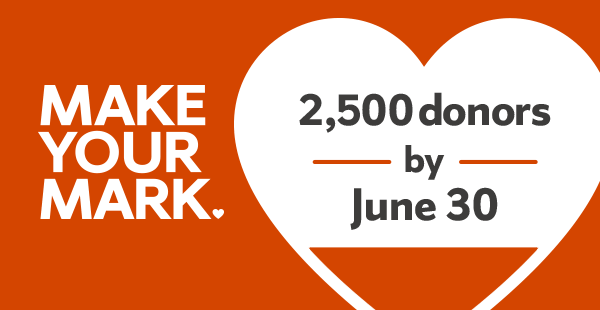 As Syracuse University approaches Commencement and the end of the 2016-17 academic year, The Fund for Syracuse is kicking off its second "Make Your Mark" fundraising campaign. The goal? To add 2,500 donors by June 30, 2017.
Annual gifts to The Fund for Syracuse are vital to the University. They not only fill the gap between tuition dollars and the actual cost of a Syracuse education, they provide many of the unique opportunities that make the student experience exceptional.
Jaclyn Feitel '17, a psychology major in the College of Arts and Sciences, was able to spend a semester studying in Florence, Italy, thanks to donor support. "You have no idea how much gifts to The Fund for Syracuse help," she says. "Without them, we wouldn't have such great opportunities. It's really exciting to know that there are people who care so much about SU that they give back."
Feitel's feeling is shared by Tony Pegues '17, an Army veteran studying accounting in the Whitman School. Through gifts made to the Veteran Legacy Fund, Pegues was able to participate in the 2017 Student Veterans of America National Conference in Anaheim, California, as well as attend the spring 2017 Hiring Our Heroes career fair and networking event. "These opportunities have set me up for greater success as I graduate and begin my career in the field of finance," he says.
The Make Your Mark effort encourages alumni, parents and friends to support the part of Syracuse University they love most, whether it is their school or college, the Syracuse University Libraries, Hendricks Chapel, athletics, or the Our Time Has Come scholarships offered through the Office of Program Development. These gifts are especially powerful since they can be used at the discretion of the deans to support their unit's highest priorities or to take advantage of special opportunities that arise. Donors can also choose to give to the Annual Fund to support the highest priorities Universitywide.
David Wishart, assistant vice president for philanthropic engagement, points out that every gift counts—what's most important is that alumni and others join in to make a difference. "It is because of our donors, and gifts of any size, that Syracuse is able to sustain its place among the most elite universities in the country," he says. "It is our hope that all alumni, parents and friends of Syracuse University will make a gift as part of Make Your Mark. Together, we can make a meaningful difference in the lives of our students."
To make your gift, visit yourmark.syr.edu. Donors can then share their good deed via social media by downloading digital swag and using the hashtag #mySUmark.