Campus & Community
University Union Announces Mayfest and Block Party 2017
University Union will present Mayfest 2017, featuring hip-hop artist Vic Mensa and electronic music group Cheat Codes, on Friday, April 28, in Walnut Park; gates to the event open at 1 p.m. Block Party 2017—featuring hip-hop artist Travis Scott, electronic musician ZHU and music duo AlunaGeorge—follows in the Carrier Dome, with gates opening at 6:30 p.m.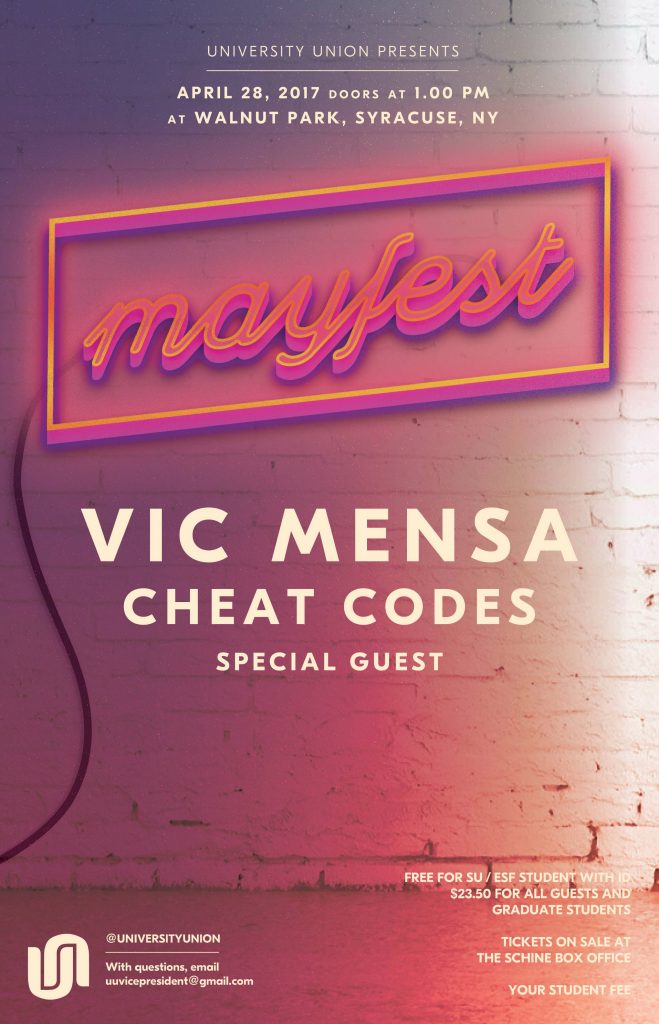 Chicago rapper Vic Mensa released his debut mixtape "Innanetape" in 2013 and closed out the year by joining J. Cole and Wale on the "What Dreams May Come True" Tour. The critically acclaimed project earned him a top spot on XXL Magazine's 2014 Freshman Class. He has performed at the Governors Ball Festival, the Coachella Music Festival and Lollapalooza, among other events.
Electronic DJ trio Cheat Codes started making music in 2014. Their single "Adventure," released in 2015, reached the top spot on Spotify's Global Viral 50. The trio has toured with The Chainsmokers, Ansolo and DallasK, and have received praise from Buzzfeed, Huffington Post and Indie Shuffle. Their most recent single, "No Promises," featuring Demi Lovato, was released on March 31 and has received praise from EDM Sauce and was a Spotify Editors' Pick featured in Billboard.
Entrance to Mayfest is free for all SU/SUNY-ESF undergraduate students with a valid student I.D.; however, pre-purchased tickets are required for all SU and SUNY-ESF graduate students, SU College of Law students and guests of SU undergraduate students, along with a valid SU/SUNY-ESF, college or military I.D. Guest and graduate/law tickets will not be available at the park and must be purchased for $23.50 at the Schine Box Office. Guest tickets purchased by SU/SUNY-ESF are limited to two per ID. Tickets for SU/SUNY ESF graduate students and SU law students are limited to one per I.D.
Both student and guest tickets do not grant reentry into the park. Students and guests wishing to enjoy the festival's beer tent mut have a valid ticket, college or military I.D., and state or government issued I.D. over 21 to receive a bracelet for beer and admission to the beer section on Walnut Park. Those entering the park between 1 and 3 p.m. will receive wristbands for three beers. Those entering between 3 and 5:30 p.m. will receive wristbands for two beers. Note that backpacks and/or bags, selfie sticks and camel backs will not be permitted. All students and guests must have their most recently issues valid college or military I.D. to be granted entry to the park. A state-issued I.D. alone will not suffice.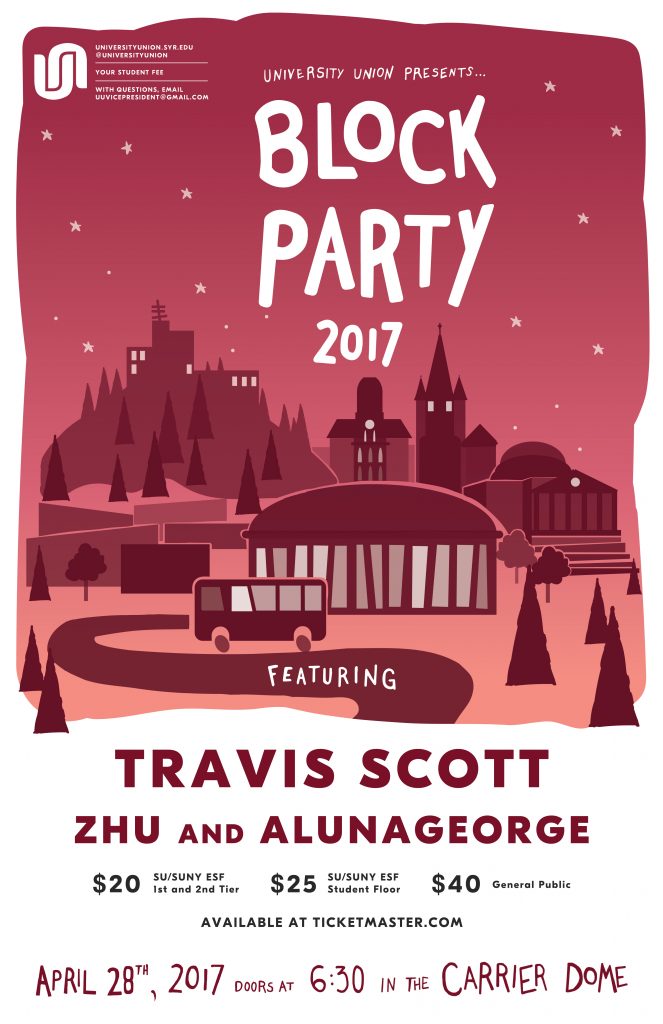 After Mayfest, the fun continues at Block Party 2017 in the Carrier Dome with hip-hop artist Travis Scott, electronic musician ZHU and music duo AlunaGeorge.
Travis Scott is a hip-hop artist from Houston. With the help of Kanye West, he released his debut solo mixtape, "Owl Pharaoh," in 2013. The same year, he made the XXL Freshman Class of 2013 cover. Scott's sophomore album, "Birds In The Trap Sing McKnight," released in 2016, debuted at the number one spot on the Billboard 200, and sat at the No. 1 spot on Apple for nine weeks. The album garnered more than 501 million streams on Apple and more than 335 million on Spotify.
After quietly releasing the smash hit, "Faded," ZHU came into the spotlight after he earned the first Grammy nomination for Best Dance Track by an anonymous artist. ZHU released his solo debut EP, "THE NIGHTDAY," in 2014. He then recruited a diverse group of musicians for the 2015 "Genesis Series" EP. ZHU played the closing set of the Sahara tent at Coachella in 2016 and earned comparisons to Daft Punk. This year, ZHU has performed at the BUKU Music + Art Project and the Ultra Music Festival, where he drew a huge crowd to the festival's Live Stage.
AlunaGeorge is an English duo from London, formed by vocalist and songwriter Aluna Francis and producer and instrumentalist George Reid. The duo broke out with its single "You Know You Like It" in 2012. In 2016, AlunaGeorge released its second album, "I Remember," with standout hits "Not About Love" and "I'm In Control."
Block Party student tickets are $25 for general admission floor access and $20 for first-, second- and third-level general admission. General public tickets are $40. All tickets are available online via Ticketmaster. To purchase pre-sale tickets, click "Got an Offer Code?" and enter the nine-digit student I.D. number. All student tickets must be picked up at the Carrier Dome. Tickets will be available at Gate N April 20-21 from 10 a.m. to 6 p.m. and outside Gate B April 24-28 from 8:30 a.m. to 4:30 p.m. Questions? Contact Caitlin Russell, University Union director of public relations, at uupublicrelations@gmail.com.