Campus & Community
University Celebrates Trans Week of Liberation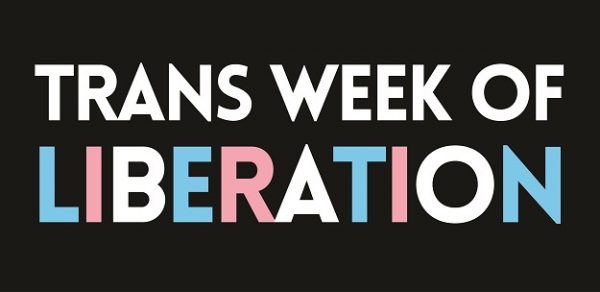 The LGBT Resource Center presents Trans Week of Liberation April 3 through April 7.  The week of events aims to affirm and celebrate trans communities and experiences.
The Trans Week of Liberation keynote event, #BlackExcellenceTour, is Thursday, April 6, at 7 p.m. in Life Sciences 001. The keynote features CeCe McDonald and Joshua Allen, Black, trans feminine activists. [Update, April 7, 2017, 8 a.m.: The keynote event has been rescheduled to Friday, April 7. The event will be in the Peter Graham Scholarly Commons, 114 Bird Library, from 3-5 p.m., and the UnVigil for honoring trans lives will immediately follow the keynote from 5-6 p.m. (see below for details).]
Their talk will focus on intersectional racial and gender justice and their vision for radical social change, revolutionary love and liberation that centers those who are the most marginalized.  American Sign Language (ASL) interpretation will be provided.
"We are excited to welcome Cece and Joshua and have the #BlackExcellence Tour include a stop to Syracuse University," says Tiffany Gray, director of the LGBT Resource Center.  "They have traveled the country speaking and organizing around issues of race, gender, sexuality and class. Their work is powerful and important, and we encourage the campus community to join us at this event."
Following the keynote is the Trans Week of Liberation UnVigil on Thursday, April 6, from 9 to 10 p.m. on the Quad. The UnVigil reclaims the vigil space that often times, for trans communities can be passive events that reinforce a narrow narrative of imminent violence.  During the UnVigil, participants will honor the trans women of color who have been murdered this year, engage in active healing, and strive to transform pain into power.
Concluding the week is a daylong workshop on Friday, April 7, focused on Pulse. The workshop will explore the systems of oppression and possibilities for liberation through a critical examination of Orlando. The workshop is 9 a.m. to 5 p.m. in Peter Graham Scholarly Commons, 114 Bird Library. Participants will have an opportunity to begin to process and heal from this summer's events at Pulse in Orlando; build affirming relationships within and across their own identities; analyze the ways in which systems of oppression enable personal violence; and begin developing strategies to promote social justice. The workshop is open to all SU/ESF students, faculty and staff. To register, email lgbt@syr.edu.
In addition to the keynote event, UnVigil and workshop, the week includes a trans-positive sexuality talk with Bear Bergman, an interfaith dialogue dinner honoring Pulse in collaboration with the Disability Cultural Center, Trans Day of Visibility tabling in Schine Student Center and a community dinner.
For more information about Trans Week of Liberation, contact the LGBT Resource Center at lgbt@syr.edu.