Campus & Community
'Thrive Together Fair' Celebrates Cultural Diversity
Syracuse University student organization Thrive at SU is hosting the inaugural "Thrive Together Fair" on Saturday, April 15, at Manley Field House. Tickets are $7 and are on sale now at the Schine Box Office and online at boxoffice.syr.edu. Doors open at 5:30 p.m.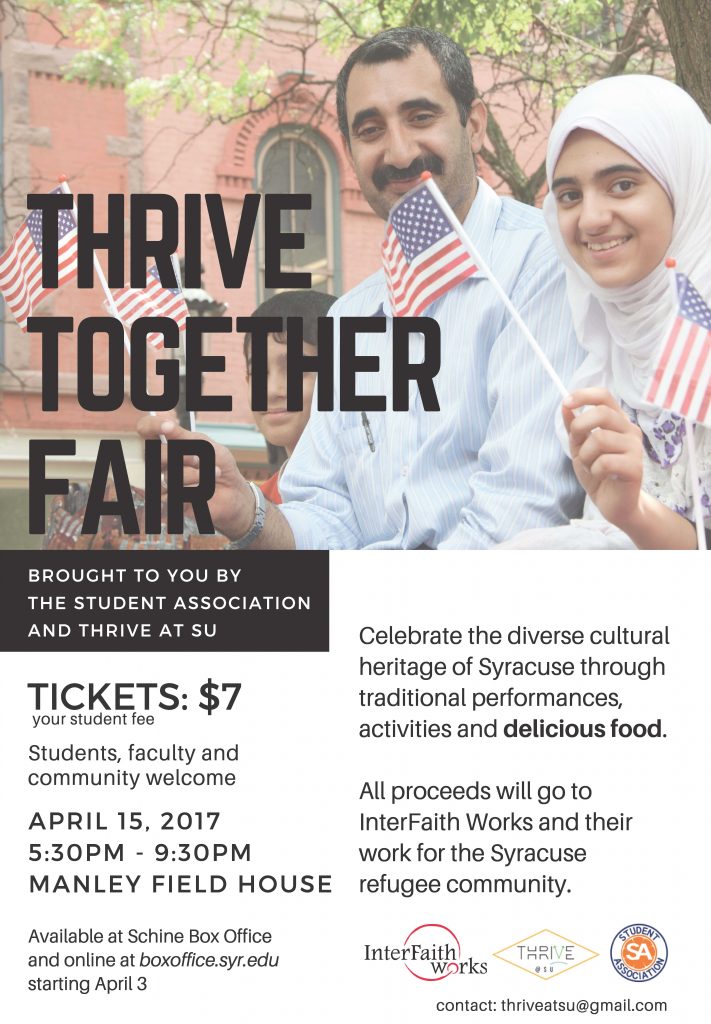 Sponsored by the Student Association, the event features performances and speakers from across the University and the local community in a night celebrating the diversity of Syracuse. The fair is also a fundraiser for InterFaith Works of Central New York and its Center for New Americans, which resettles and integrates refugee families into the Syracuse community. Following recent policy changes, the center has seen its funding for these efforts drastically reduced.
Syracuse Mayor Stephanie Miner and Vice Chancellor and Provost Michele Wheatly will be speaking; SU student organizations and community groups will perform and host activities showcasing various cultural influences; and individuals will be invited to offer personal stories about their New American experience and life in Syracuse.
A variety of cuisines from around the world will be featured, with the dishes donated by local venues. Free parking is available in the Manley South lot.
As the collegiate-level affiliate of Thrive Projects, a nonprofit that works with underserved and vulnerable communities around the world, Thrive at SU firmly believes that the strength of Syracuse is rooted in both its diversity and sense of togetherness. Thrive at SU recognizes the important role that refugees play in the community and hopes this event "serves as a reminder that we are at our best when we face times of struggle together."
For more information, contact Amanda Chou at aychou@syr.edu.