Health & Society
The Peter Falk Bill, Rights of Association Among Family, Friends Featured at April 17 Program
Catherine Falk, pioneer of the wards' right of association bill named after her late father, Maxwell School alumnus, Peter Falk G'53 (M.P.A.), will speak at Falk College on Monday, April 17. The event, which is free and open to the public, will take place in Falk Room 200 at 6:45 p.m.
Known for his starring role in the popular television show, "Columbo," Peter Falk was at the center of a court battle in 2009 when his daughter, Catherine, filed for conservatorship after her stepmother did not allow contact or visitation with the ailing 81-year-old actor. An advocate for elder abuse prevention, guardianship reform and disability rights drafting, and lobbying legislation for rights of association for those experiencing isolation in a guardianship/conservatorship, Catherine Falk continues to lobby for family rights legislation nationally.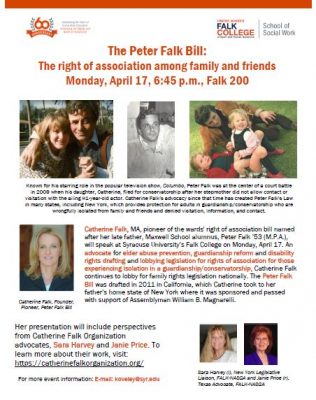 The Peter Falk Bill was drafted in 2011 in California, which Catherine took to her father's home state of New York where it was sponsored and passed with support of Assemblyman William B. Magnarelli. Today Peter Falk's Law in many states provides protection for adults in guardianship/conservatorship who are wrongfully isolated from family and friends and denied visitation, information and contact.
Falk's presentation will include perspectives from Catherine Falk Organization advocates, Sara Harvey and Coz Witten Skaife. To learn more about their work, visit catherinefalkorganization.org. For more event information, email koveley@syr.edu.