Campus & Community
Sustaining Action: A Teach-In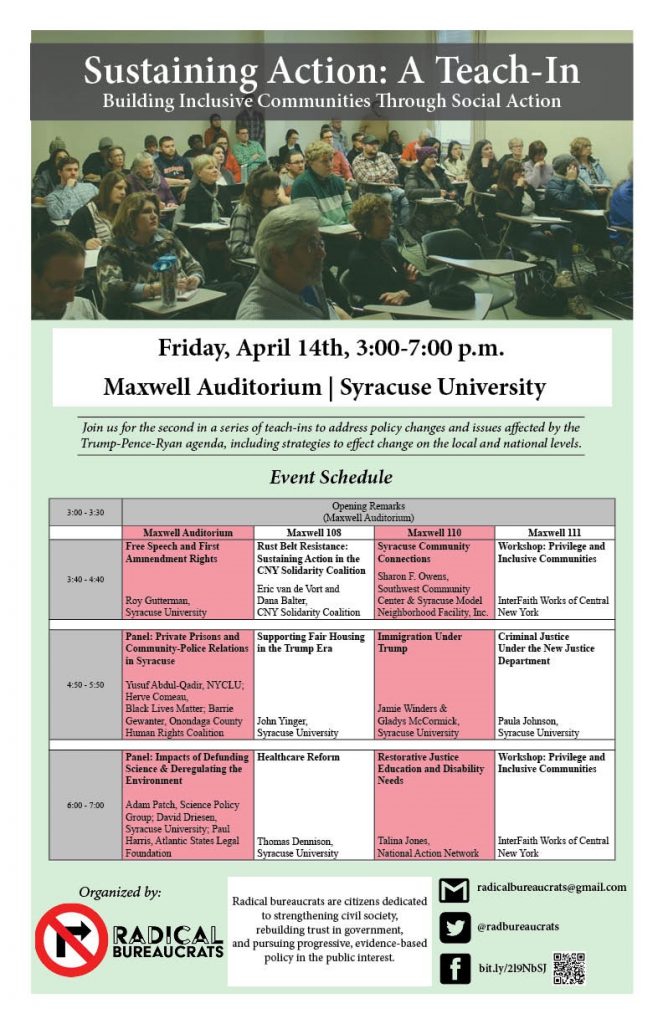 Following the success of February's teach-in, "Sustaining Action: A Teach-In" is organized under a new theme: Building Inclusive Communities Through Social Action. This is the second in a series of teach-ins that addresses policy changes and issues affected by the Trump-Pence-Ryan agenda.
For many communities in Syracuse and across the country, the issues exacerbated by the current agenda are not new. Through panels, workshops and presentations, teach-in facilitators will discuss how local communities have been organizing around intersectional issues and how they are responding to new challenges. Grassroots organizing and community-building efforts are creating a vital political force that is successfully challenging policy on both a local and national level.
Topics and speakers include:
Free Speech & First Amendment Rights — Roy Gutterman
Workshop: Privilege and Inclusive Communities — InterFaith Works
Immigration Under Trump — Gladys McCormick & Jamie Winders
Syracuse Community Connections — Sharon F. Owens
Panel: Impacts of Defunding Science & Deregulating the Environment — Adam Patch, David Driesen, Paul Harris, Kerry A. Thurston
Restorative Justice Education & Disability Needs — Talina Jones
Panel: Private Prisons & Community-Police Relations in Syracuse — Yusuf Abdul-Qadir, Herve Comeau, Barrie Gewanter
Health Care Reform — Thomas Dennison
Rust Belt Resistance: Sustaining Action in the CNY Solidarity Coalition — Eric van der Vort & Dana Balter
Supporting Fair Housing in the Trump Era — John Yinger
Criminal Justice under the New Justice Department — Paula Johnson
This event is free and open to the public. We understand that not every important policy issue is being addressed at this teach-in, which is why the Radical Bureaucrats are committed to facilitating multiple events, as well as in the greater Syracuse community.
If community members or organizations would like to speak at future events, please email radicalbureaucrats@gmail.com. To request accommodations, please contact radicalbureaucrats@gmail.com as soon as possible.