Media, Law & Policy
Secretary General of the Organization of American States to Speak Friday at Eggers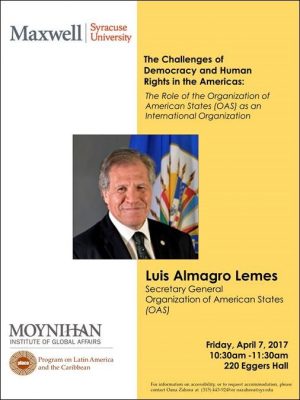 Secretary General Luis Almagro Lemes of the Organization of American States (OAS) will present "The Challenges of Democracy and Human Rights in the Americas: The Role of the Organization of American States (OAS) as an International Organization," on Friday, April 7, at 10:30 a.m. in 220 Eggers Hall.
Luis Almagro Lemes was elected secretary general of the Organization of American States on March 18, 2015. The OAS encompasses North America and South America and promotes regional solidarity and cooperation among its 35 member states.
Upon taking leadership of the OAS, he announced that one of the central themes of his mandate will be "more rights for more people." As secretary general, he has worked to bring the OAS closer to the new realities in the hemisphere and contribute to ensuring more democracy, security and prosperity for all. He has championed initiatives that include the Inter-American Human Rights System, the Inter-American Judicial Facilitators Program and the Mission to Support the Peace Process in Colombia.
A career diplomat, Almagro was foreign minister of Uruguay from 2010 to March 1, 2015, and has extensive regional and international experience. In addition, he was elected senator in the national elections in Uruguay in October 2014.
In 2014 Foreign Policy magazine named him a Leading Global Thinker, one of ten decision-makers in the world who have been granted this international distinction.