Campus & Community
'Paving the Way' Connects Alumni and Students for Asian American and Pacific Islander Heritage Month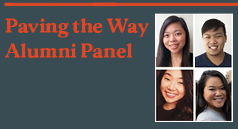 As part of Asian American and Pacific Islander (AAPI) Heritage Month, members of the campus community are invited to an insightful discussion with Syracuse University alumni on Friday, April 14, from 6 to 7:30 p.m. in Room 500 of the Hall of Languages. The Paving the Way series connects current students with alumni as they recount their college and career experiences and offer advice for success.
"This event will be enlightening for current students, especially for those studying in the Asian/Asian American Studies program," says Yingyi Ma, associate professor of sociology and director of the Asian/Asian American Studies program in the Maxwell School and College of Arts and Sciences, senior research associate at the Center for Policy Research and the inaugural O'Hanley Faculty Scholar. "The real world experiences of our alumni can help students better understand the issues they are learning and discussing in the classroom, such as the model minority myth and bamboo ceiling issues."
The panel is sponsored by the Office of Multicultural Affairs, the Office of Program Development, Asian/Asian American Studies, Lambda Phi Epsilon and Asian Students in America.
"We are proud to play a role in bringing this panel to campus," says Rachel Vassel, SU assistant vice president of program development. "Aligned with the mission of our office to develop culturally relevant alumni engagement opportunities, we look forward to creating more opportunities like this panel for our Asian American and Pacific Islander alumni to get involved with our students in the future."
This year's panelists:
Victoria Chan '09 (College of Arts and Sciences) 
Since 2000, Chan has been involved with nonprofit performing arts programs, working with the Britney Spears Foundation, American Idol, 50 Cent's G-Unity Foundation, Jackie Chan's Charitable Foundation and Usher's New Look Foundation. After earning a master's degree in professional counseling and college student affairs, Chan took on her current role as assistant director of student conduct at Emory University.
Ben Fang '15 (Newhouse School)
Fang is a community editor for the Queens Ledger/Brooklyn Star Newspaper Group, covering community news, local politics and breaking news. During his time on campus, Fang served as the president of Asian Students in America (ASIA), an editor in chief of ALINE Magazine and a member of the AAPI Heritage Month planning committee.
Jane Hong '16 (Newhouse School)
After graduating, Hong went to work in news production at ATTN:, an issues-based media company. Since then, she has covered the lack of diversity in Hollywood, the need to end whitewashing in entertainment, and the myth of the Asian/Asian Americans model minority. While at SU, Hong was involved in a number of organizations, including the Student Association, the Korean American Student Association and Liberty in North Korea.
Sharon Lee '14, G'15 (School of Information Studies)
A Boston native and now a Dallas resident, Lee is an opportunity explorer. She is currently at Microsoft. As a student at SU, Lee was active in AAPI Heritage Month, ASIA and the Hong Kong Student Association because of her passion to learn more about her identity and heritage.
Recognized nationally in May, AAPI Heritage Month celebrates Asian Americans and Pacific Islanders who have enriched America's history as trailblazers in the AAPI community. In collaboration with students, faculty and staff across campus, AAPI Heritage Month consists of programs and events that educate the community about the experiences, cultural diversity, contributions and often-underreported challenges of Asian Americans and Pacific Islanders.
For more information on the Paving the Way panel, or other AAPI Heritage Month events, contact Huey Hsiao at huhsiao@syr.edu.