Campus & Community
Middle States Self-Study Report Posted for Campus Feedback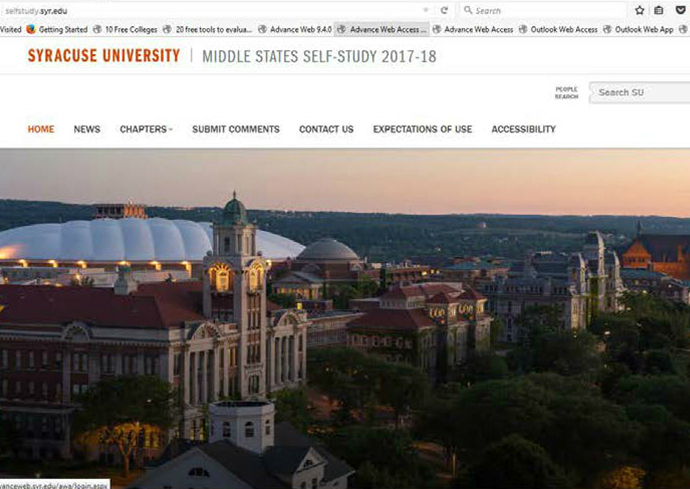 Syracuse University's Middle States Reaccreditation Self-Study Steering Committee has launched the feedback phase of the self-study process that is a central component of the University's efforts to retain accreditation by the Middle States Commission on Higher Education.
As part of the feedback phase, the committee has posted the self-study draft report on a dedicated website, where members of the campus community can review the draft and submit feedback relating to the content. The website, selfstudy.syr.edu, requires visitors to use their campus NetID and password to access the report, evidence and feedback form.
The report is organized by chapter, with Chapter Four encompassing the most critical component of the report—the findings of the working teams charged with assessing the University's compliance with Middle States' seven "standards of excellence." The chapter comprises sections dedicated to each of the seven standards and an eighth section relating to compliance with federal regulations.
A comment form also has been created for readers to submit feedback. Readers are urged to read an entire chapter before submitting any comment relating to that chapter.
The seven standards required for inclusion in the University's self-study report are: Mission and Goals; Ethics and Integrity; Design and Delivery of the Student Learning Experience; Support of the Student Experience; Educational Effectiveness Assessment; Planning, Resources, and Institutional Improvement; and Governance, Leadership, and Administration. In each, the report lays out the University's status on compliance and, where relevant, areas in need of improvement.
The report will remain posted through Sept. 22, after which final edits will be made with consideration given to campus community feedback. The final draft report will be submitted to Middle States by Dec. 22, and that document will be used as the basis for a campus visit by representatives of peer universities in spring 2018.
For more information on the Middle States reaccreditation process at Syracuse University, go to middlestates.syr.edu. To access the report directly, go to selfstudy.syr.edu.