Health & Society
Healing From Trauma: University Presents Moving Traumatic Energy and Re-engaging in Life Workshops
As part of Sexual Assault Awareness Month, the Contemplative Collaborative, Healthy Monday Syracuse, the Office of Health Promotion and the Syracuse University Wellness Initiative are hosting the Moving Traumatic Energy and Re-engaging in Life workshop series on campus.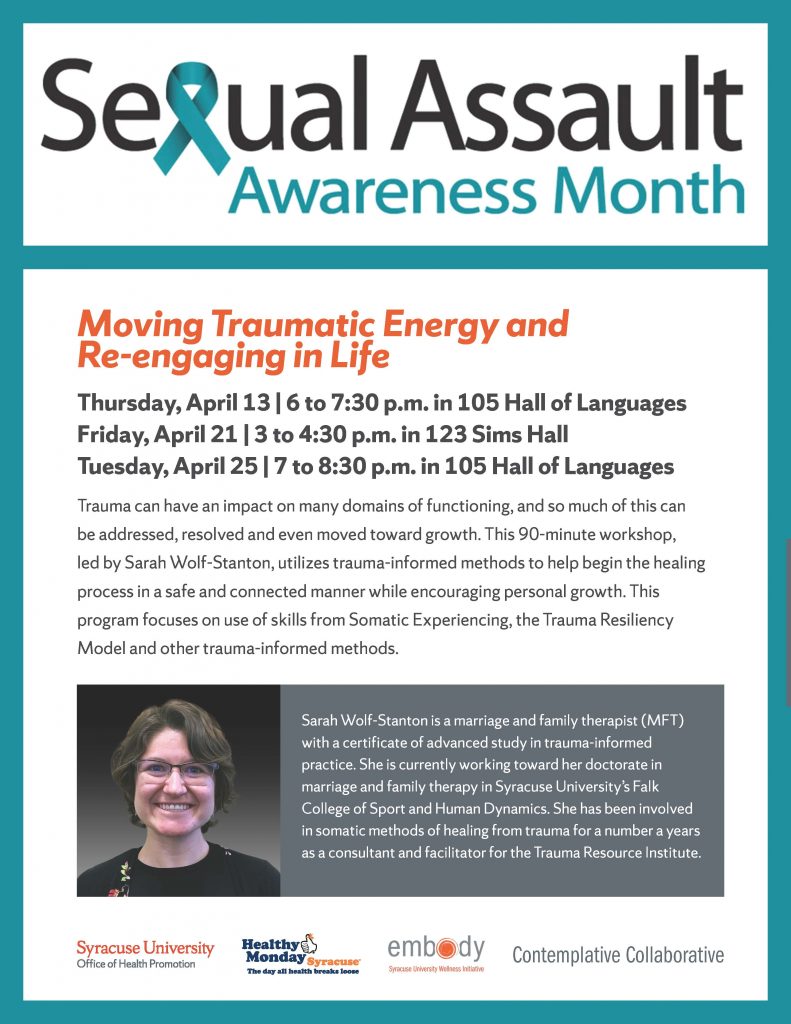 Led by Sarah Wolf-Stanton, this 90-minute workshop discusses trauma-informed methods that can help initiate a safe and connected healing process while encouraging personal growth.
The workshop focuses on the use of skills from Somatic Experiencing, the Trauma Resiliency Model and other trauma-informed methods.
The schedule of remaining workshops is as follows:
Friday, April 21, from 3 to 4:30 p.m. in Room 103 in Sims Hall
Tuesday, April 25, from 7 to 8:30 p.m. in Room 105 in the Hall of Languages
Wolf-Stanton is a marriage and family therapist with a certificate of advanced study in trauma-informed practice. She has been involved in somatic methods of healing from trauma for a number of years as a consultant and facilitator for the Trauma Resource Institute.
For more information, or for accommodations, contact Michelle Goode at mlgoode@syr.edu.