Arts & Culture
Grammy Award-Winning Los Lobos to Perform June 16 at Syracuse Stage Gala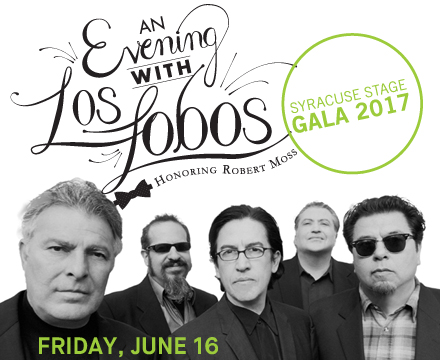 Multiple Grammy Award-winning rock band Los Lobos will perform live in concert at Gala 2017, Syracuse Stage's major annual fundraiser, on Friday, June 16, in the Schine Student Center's Goldstein Auditorium.
Tickets for the concert are now on sale at the Syracuse Stage Box Office, by phone at 315.443.3275 and online. General admission seating is available in the balcony for $45. New in 2017 are tickets that include general admission seating and a post-show champagne reception with the band for $75. Doors will open at 8:45 p.m., and the concert will begin at 9 p.m.
Tickets for the entire Gala event—including a cocktail reception, silent auction, dinner and concert—are available now online or by phone at 315.443.2709.
Los Lobos was formed in an East L.A. garage. The group's sound is influenced by a mixture of genres, including rock 'n' roll, Tex-Mex, country, R&B, blues and traditional Spanish music. In 1987, the band released "La Bamba," which became a worldwide hit. Los Lobos is often cited as one of the great bands of Latino Rock, but their sound has been considered a vital example of America's cultural melting pot. Recently, Los Lobos was inducted into the Rock and Roll Hall of Fame.
Syracuse Stage Gala 2017 is presented by the Syracuse Stage Board of Trustees and Syracuse Stage Guild. During the program, the 6th annual Louis G. Marcoccia Award for Exemplary Service to Syracuse Stage will be presented to Robert Moss, artistic director of Syracuse Stage from 1996-2007.
Event co-chairs are Robin Curtis, representing the Syracuse Stage Board of Trustees, and Jacki Goldberg, representing the Syracuse Stage Guild Board. Honorary chairs are Suzanne and Kevin McAuliffe. Underwriter for the event is The POMCO Group. All proceeds will benefit Syracuse Stage artistic and educational programming.