Campus & Community
Campus Urged to Attend Middle States Information Forum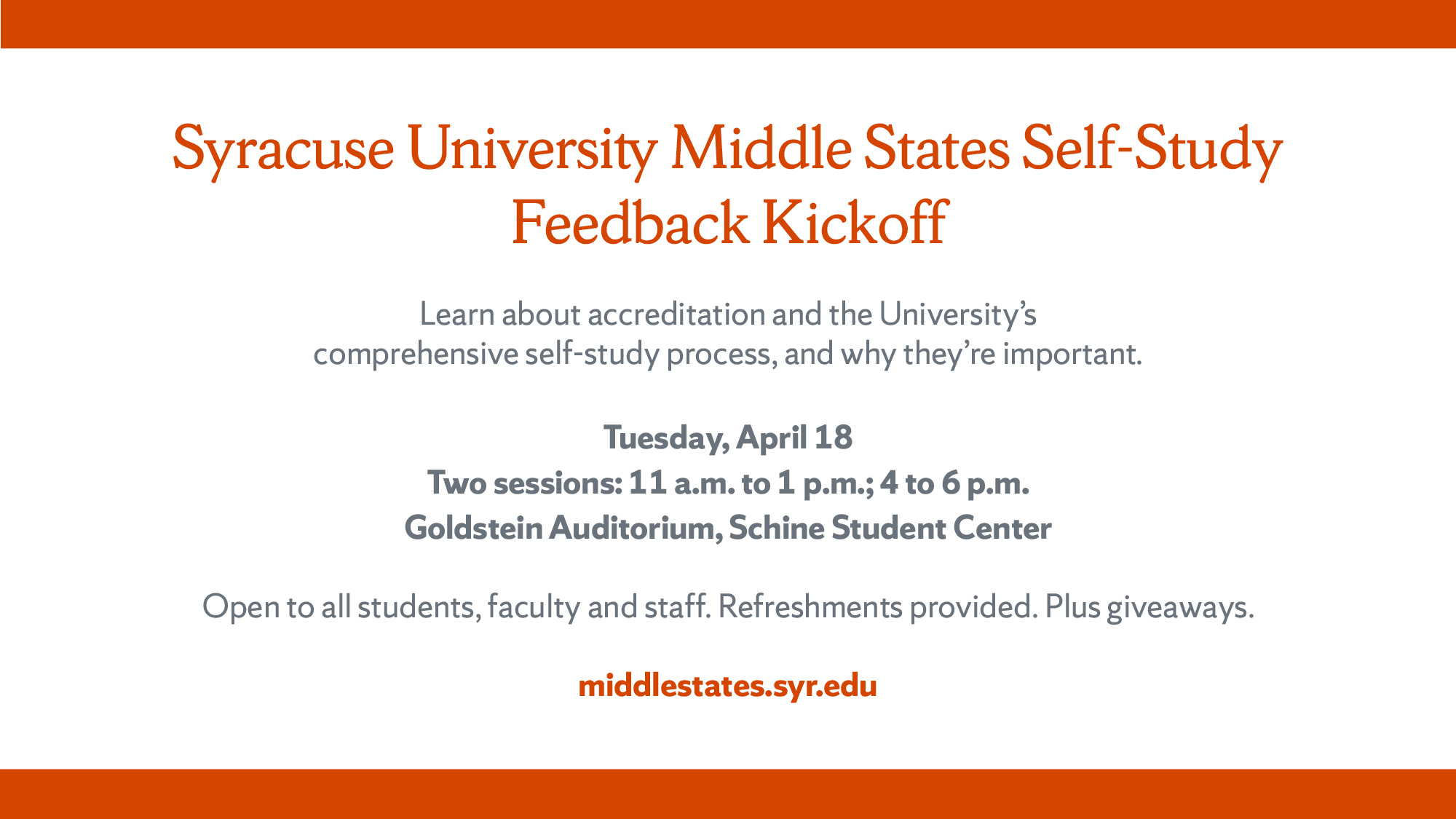 All members of the campus community are invited to attend an informational forum hosted by Syracuse University's Middle States Reaccreditation Steering Committee on Tuesday, April 18, in the Schine Center's Goldstein Auditorium. Two identical sessions are scheduled—11 a.m. to 1 p.m. and 4 to 6 p.m.—to update the campus community on the committee's work to secure reaccreditation from the Middle State Commission on Higher Education and to formally launch the feedback phase of the self-study process.
The program will open with brief remarks by University leaders and an explanation of the accreditation process by one of the steering committee tri-chairs. A short information recap will follow, during which representatives of each of the seven working teams will briefly report out on their findings and preliminary recommendations for their portion of the self-study report.
American Sign Language (ASL) interpretation and Communication Access Realtime Translation (CART) will be provided at the forum. To request accommodations, contact Melissa Lowry in the Office of Institutional Effectiveness and Assessment at 315.443.4119 or via email at malowry@syr.edu.
The University's reaccreditation process, Middle States: Peer Review, Reflection, Momentum, involves self-evaluation on seven standards: Mission and Goals; Ethics and Integrity; Design and Delivery of the Student Learning Experience; Support of the Student Experience; Educational Effectiveness Assessment; Planning, Resources, and Institutional Improvement; and Governance, Leadership, and Administration. The self-study includes an evaluation on the status of each and, where applicable, recommendations for improvement.
In addition, institutions are required to show compliance with 15 requirements of affiliation and eight accreditation-relevant federal regulations.
Following the brief working team reports, attendees will be free to circulate among various stations to hear more about findings and/or recommendations relating to specific standards and to offer input. Refreshments and giveaways will be available.
Middle States accreditation is designed to ensure that all aspects of University operations, practices, and programs align with its publicly stated mission and the ethical standards of higher education culture. Accreditation is required in order for the University to be eligible to receive any federal funding, including federal financial aid for students.
The forum marks the start of the open comment period on the draft self-study report, which will be posted electronically for campus review and feedback in the coming days and remain posted through September.
Feedback will be noted for consideration as the steering committee makes further edits to the document in preparation for its final submission by Dec. 22, 2017. A team of reviewers from peer universities will use the report as the basis for its final evaluation during a campus visit in spring 2018.