Arts & Culture
'A Little More Human' Author Maazel Wraps Up 2016-17 Carver Series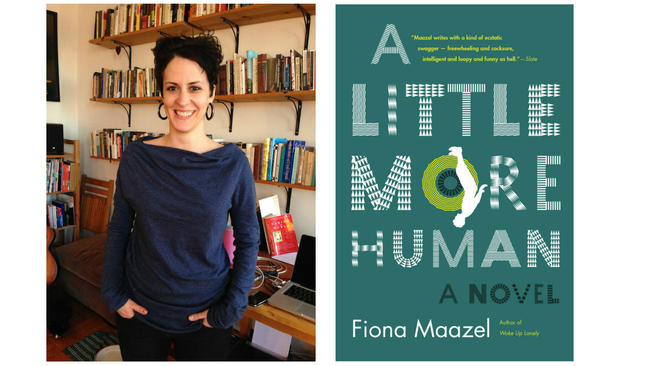 The 2016-17 Raymond Carver Reading Series concludes on Wednesday, April 26, with author Fiona Maazel, a Visiting Writer teaching in the M.F.A. program in creative writing this semester. She will read from her work at 5:30 p.m. in Huntington Beard Crouse Hall's Gifford Auditorium and earlier, at 3:45 p.m., will take part in a Q&A in the auditorium.
She is winner of the Bard Prize for Fiction and a National Book Foundation "5 Under 35″ honoree.
Her latest novel, "A Little More Human," was published April 4 by Graywolf Press. The Star Tribune and the Chicago Review of Books named it a Most Anticipated Book for 2017.
Publishers Weekly writes of "A Little More Human":
Maazel's (Woke Up Lonely) third novel blends science fiction, satire, farce, literary mystery, and comic book adventure that probes the human heart even as it describes drugs and robotics propelling us into a bionic, posthuman world. During the week, nursing assistant Phil Snyder works at SCET, his family's Staten Island biotech firm specializing in new and experimental treatments for brain injuries, while weekends he dresses up as popular superhero Brainstorm for toy stores and children's events. Like Brainstorm, Phil can read minds; unlike Brainstorm, his life is spiraling out of control. Without his knowledge, his wife has become pregnant through a sperm bank. His father, Doc, an SCET cofounder, is rapidly succumbing to dementia. Worst of all, Phil receives four photos in the mail showing him in his Brainstorm costume, stripped to the waist, standing over a battered woman. Unable to remember what happened the night the photos were taken, Phil seeks out the victim, Effie, and embarks on a journey involving an unidentified dead body and a series of unanswered questions. Maazel's clever, incisive prose makes the roller-coaster plot a fun if exhausting ride.
Maazel previously wrote the novels "Last Last Chance" (Farrar, Straus & Giroux, 2008; Picador Paperback, 2009) and "Woke Up Lonely" (Graywolf, 2013).
Her work has appeared in Anthem, Bomb, Book Forum, Boston Book Review, The Common, Conjunctions, Fence, Glamour, Harper's, The Millions, Mississippi Review, N+1, The New York Times, The New York Times Sunday Book Review, Ploughshares, Salon, Selected Shorts, This American Life, Tin House, The Village Voice and The Yale Review.
She teaches at Princeton University and is the director of communications for Measures for Justice.
The Raymond Carver Reading Series is supported by the College of Arts and Sciences, the Syracuse University Library Associates, Stephen King, the Dr. Scholl Foundation, the Lynn & David Pleet '53 Fund for Creative Writing, the Richard Elman Visiting Writer Fund, The Friends of Creative Writing, Chris Tennyson, Jerome Cohen, the Jane and Daniel Present Fund, and the Interdisciplinary Fund for the Humanities from Leonard and Elise Elman.