Campus & Community
4 Questions for Paul Longchamps, Physical Plant Employee Set to Hike Pacific Crest Trail
Paul Longchamps, an employee at Syracuse University's Physical Plant, is about to embark on the journey of a lifetime. It's a hike of the legendary Pacific Crest Trail. If you're not familiar, imagine walking from here to California. It's more than 2,500 miles. Longchamps can be seen during the day, always walking at a brisk pace around campus, tending to his daily duties. We stopped him long enough to ask four questions about his journey, his training, and above all else, why?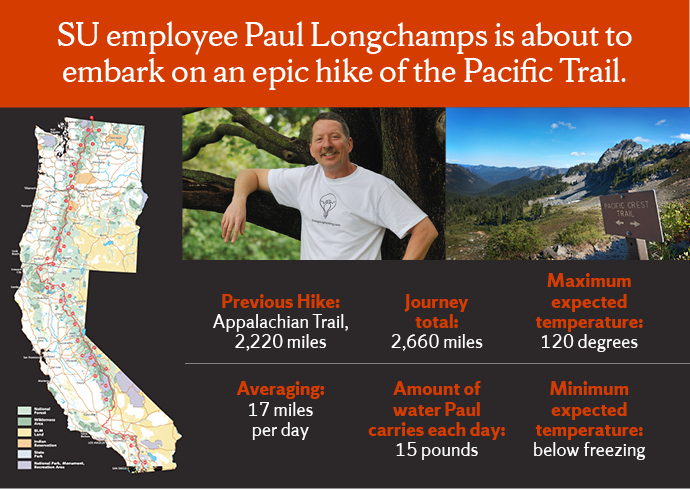 01

How long is the actual journey?

The journey is 10,000 miles and will total five years from conception to completion. The Pacific Crest trail is 2,660 miles long. I have confidence that I can walk that distance through deserts and mountains in about five months. To meet that goal, I will have to walk 17-and-a-half miles per day. Travel from Syracuse to the Mexican border in Southern California is nearly 3,000 miles. My flight home from British Columbia will be 3,000 more miles. The trail is 2,660 miles long. That does not count the miles to and from resupply towns and off-trail travel. That can easily total another 700 miles of walking.

02

Why are you doing this, and who are you going with?

I am going alone. My friends follow my blog posts. My wife stays in Syracuse, but she is with me every step of the way. Pre-hike she buys me gear to make my life easier and help ensure my safe return. She sends me supply packages as I need them along the route. On this particular journey, we plan a rendezvous in Oregon to stand in the moon's shadow during the next complete solar eclipse. On Aug. 21, the umbra will make landfall at Newport Beach in Oregon. I'm doing this because I can! I am physically, mentally, spiritually and financially prepared. My passion drives my ambition. I am conducting a fundraising effort in conjunction with my hike. My wife and I favor two programs here on campus. One is the W.I.S.E. ( Women In Science and Engineering) program. And Dr. Renie Kehres, associate dean of Falk College, has created a fund for students with special needs. Both programs help potentially marginalized students acclimate to campus life.

03

What is the hike like?

It starts with more than 600 miles of desert. Hot sun during the day with the ground surface heating to over 120 degrees. Night temperatures are below freezing. The desert is not flat. Within the first 50 miles, Mount Laguna summit is 6,000 feet above sea level and can have snow at the top through May. The desert can take me over a month to hike through. During that time, I will have to carry 15 pounds of water each day doubling the weight  on my back. Once I hit Sierra Nevada, water can be harvested from the environment rather than carried. In the Cascades, I can expect to experience a range of all four seasons within each hiking day. Camping is something we do during a long-distance trail hike. People I know who enjoy camping strive to make their camp like home. Long-distance trail hikers just stride to make it home.

04

How are you currently training for the hike?

I currently walk an average of 15 miles per day. I typically walk several miles before work. Each work day, I walk more than five miles. I hike with friends after work. My wife and I hike on weekends. I update my blog to keep me handy with the communications. I thru-hiked the Appalachian Trail in 2012. It's a 2,200-mile scenic trail from Georgia to Maine. I completed the hike in five months, being treated for Lyme disease halfway through. During the time I was sick, my miles per day were low. After finishing the trail and recovering for one year, I took two weeks off from work and went back to the trail to the same area where I first got sick. I hiked north for nine days, and I covered 260 miles—nearly 30 miles per day.