Campus & Community
Victor Cruz to Speak for 'Truth Be Told' Series March 27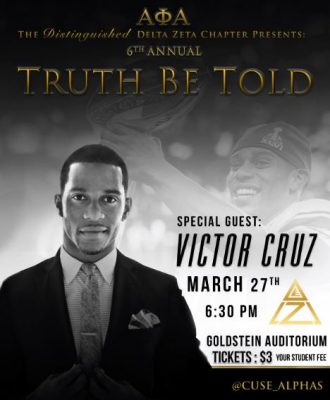 The Delta Zeta Chapter of Alpha Phi Alpha Fraternity Inc. will present the sixth annual "Truth Be Told" event, featuring special guest Victor Cruz. Cruz will speak in Goldstein Auditorium in Schine Student Center on Monday, March 27, at 7 p.m. (doors at 6:30 p.m.).
Cruz, a wide receiver in the National Football League (NFL), is originally from Paterson, New Jersey. Following his time playing football at the University of Massachusetts, Cruz signed with the New York Giants in 2010. During his time with the Giants, he was invited to play in the Pro Bowl and won Super Bowl XLVI.
The "Truth Be Told" series brings public figures to campus whose voices have contributed to honest conversations about our society.  Previous "Truth Be Told" speakers have included Anderson Cooper, Forest Whitaker and Anthony Andersen.
Cruz's talk will focus on managing life with and without football, namely with his philanthropic efforts.
Tickets are available for $3 at the Schine Box Office.  The event is open to the public.