Campus & Community
University Lectures Hosts Pulitzer Prize-Winning Journalist Sonia Nazario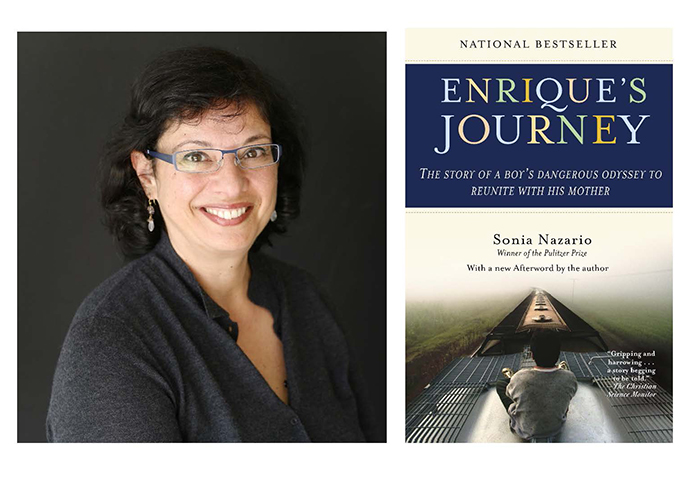 Pulitzer Prize-winning journalist, author and activist Sonia Nazario closes out the 2016-17 University Lectures series at Syracuse University on Wednesday, April 5, at 7:30 p.m. in Hendricks Chapel.
Her presentation is free and open to the public. American Sign Language (ASL) interpretation and Communication Access Realtime Translation (CART) will be available. Nazario's visit is co-sponsored by the College of Arts and Sciences and Latino-Latin American Studies.
Nazario has been named among the most influential Latinos by Hispanic Business Magazine and a "trendsetter" by Hispanic Magazine. In 2012, Columbia Journalism Review named her one of the "40 women who changed the media business in the past 40 years."
A fluent Spanish speaker of Jewish ancestry whose personal history includes living in Argentina during the so-called "dirty war," Nazario is a passionate and dynamic speaker. Through her speaking and writing, she has drawn widespread attention to the critical social issues of immigration, racial discrimination, hunger and drug addiction, as well as U.S. foreign policy.
A reporter for more than 20 years, Nazario is best known for "Enrique's Journey," her series of reports for The Los Angeles Times following a Honduran boy's struggle to find his mother in the United States. It earned the 2003 Pulitzer Prize in Feature Writing and the George Polk Award for International Reporting, among other honors. In book form (Random House, 2006), "Enrique's Journey" later became a national bestseller. A Young Adult version was published in 2013, aimed at middle schoolers and reluctant readers in high school. She is now at work on her second book.
Nazario returned to Honduras in 2014, when a national crisis erupted over the detention of unaccompanied immigrant children at the border. In her piece for The New York Times, she detailed the violence causing the exodus and argued that it was a refugee crisis, not an immigration crisis. Her story garnered global attention and prompted an invitation to address the U.S. Senate Committee on Foreign Relations.
Her humanitarian efforts led to Nazario's selection as recipient of the Don and Arvonne Fraser Human Rights Award from the Advocates for Human Rights in 2015. She also was named a 2015 Champion for Children by First Focus and a 2015 Golden Door winner by HIAS Pennsylvania. In 2016, the American Immigration Council presented her with the American Heritage Award, and the Houston Peace & Justice Center honored her with its National Peacemaker Award.
A graduate of Williams College, Nazario also has a master's degree in Latin American studies from the University of California, Berkeley. She holds honorary doctorates from Mount St. Mary's College and Whittier College.
She has served on many boards, including the board of Kids In Need of Defense, a nonprofit launched by Microsoft and Angelina Jolie to provide pro bono attorneys to unaccompanied immigrant children.
Nazario is the sixth and final speaker in the 2016-17 University Lectures series. Earlier speakers were 3D printing pioneer Bre Pettis, award-winning photojournalist Lynsey Addario, renowned landscape architect James Corner, Pulitzer Prize-winning author Jhumpa Lahiri and Humans of New York creator Brandon Stanton.
The University Lectures brings to campus notable individuals of exceptional accomplishment who share their diverse global experiences and perspectives. Syracuse University's premier speaker series was created through, and is supported by, the generosity of alumnus Robert B. Menschel '51.
The University Lectures welcomes suggestions for future speakers. To recommend a speaker, or to obtain additional information about the series, write to lectures@syr.edu.
For up-to-date information on the series, visit the University Lectures website, follow on Facebook, and join the University Lectures email list.