Campus & Community
Syracuse University to Celebrate National Orange Day on Friday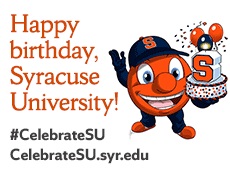 Friday, March 24, is a special day at Syracuse. It is the University's 147th birthday, a day to celebrate its founding on March 24, 1870.
"National Orange Day is probably the most amazing day out of the whole year because it's a time to celebrate not only SU's birthday but Otto's too—even if you're not here on campus," says Malcolm-Ali Davis '18, a member of the Student Philanthropy Council. "It's also a day to say thank you for 147 years of changing lives and creating leaders. I'm so proud to be Orange, especially on National Orange Day."
Here are some of the ways that members of the University community can join in the celebration of National Orange Day:
Wear orange!
Join in the group photo that will be taken on the front steps of the Hall of Languages at 11:45 a.m. (rain location is the Schine Atrium).
Grab a cupcake and a high-five from Otto the Orange in the Schine Atrium from noon to 2 p.m.
Send birthday wishes using #CelebrateSU on social media.
Share your National Orange Day photos.
Check out the community service projects Syracuse University alumni are doing in cities across the country.
Make a birthday gift to the part of Syracuse you love most.
Learn more about National Orange Day.