Campus & Community
Sexual Assault Awareness Month Begins April 1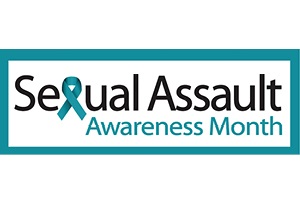 The Office of Health Promotion, in collaboration with numerous student groups, offices and departments, presents Sexual Assault Awareness Month throughout April.  The month aims to bring a number of educational, empowering and engaging programs and events to promote the importance of raising awareness about, and supporting those impacted by, sexual and relationship violence.
Throughout the entire month, the Hall of Languages and Hendricks Chapel will be lit in teal, the month's official color, and students, faculty and staff are encouraged to wear teal ribbons, available for free at the Office of Health Promotion (111 Waverly, Suite 006), to demonstrate their support.
"It is important to support survivors and those impacted by sexual violence, and other forms of violence.  The more people that are supportive and actively engaged in learning and open discussions, the more we will be able to create culture change," says Michelle Goode, sexual and relationship violence prevention health promotion specialist.
The month's activities begin with the spring It's On Us Week of Action from April 2 through April 8.  The It's On Us Week of Action is part of the It's On Us national campaign to encourage all community members to take part in ending sexual assault. Check the It's On Us Week of Action calendar for a full list of events.
The month continues with speakers, discussions and workshops, including an evening with keynote speaker Mirabelle Jones of Art Against Assault, a grassroots arts organization raising awareness about sexual assault through the production of survivor-led art projects. Her talk will focus on art as a tool for survivor advocacy and trauma therapy. Jones will speak on Monday, April 24, from 7:30 to 9:30 p.m. in Gifford Auditorium.
In addition to the keynote speaker, the month will feature a Tie Dye for Sexual Empowerment event on the Einhorn Family Walk (April 11); an open question-and-answer session with the Office of Equal Opportunity and Resolution Services (April 13); trauma-informed workshops aimed at helping to heal (April 13, 21, and 25); Culture of Consent discussions on a variety of themed topics (April 13, 20, and 27); the Survivor Love Letters project (April 20); and the It's On Us Visual Display on the Quad (April 24 through 27).
For details on each of the events, visit the Sexual Assault Awareness Month calendar.
Sexual Assault Awareness Month is a Universitywide collaboration made possible by the Office of Health Promotion, Office of Fraternity and Sorority Affairs, Office of Multicultural Affairs, Office of Equal Opportunity and Resolution Services, Army ROTC, Veterans Resource Center, Slutzker Center for International Services, Contemplative Collaborative, Syracuse VA Medical Center, LGBT Resource Center, Hillel, Healthy Month Syracuse, Syracuse University Wellness Initiative, Disability Cultural Center, Art Against Assault, Peer Educators Encouraging Healthy Relationships and Sexuality (PEEHRS), Falk College, and National Women's Law Student Association.