Campus & Community
Screening of 'Out Here,' a Film About Queer U.S. Farmers, March 28
Together with a number of Syracuse University programs, Falk College's Food Studies program is presenting a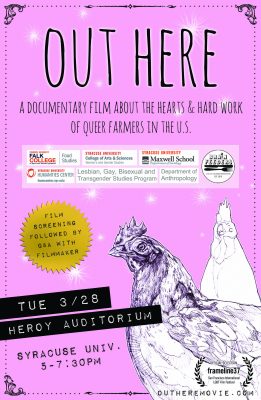 screening of "Out Here," a documentary film about the hearts and hard work of queer farmers in the United States, followed by a Q&A session with the filmmaker, Jonah Mossberg, on Tuesday, March 28, from 5 to 7:30 p.m. in Heroy Auditorium. The event is free and open to the public.
Created by the Queer Farmer Film Project, the full-length documentary film illuminates the lives of queer farmers. "Food Studies is excited to host Jonah Mossberg and his film 'Out Here,'" says Elissa Johnson, Food Studies internship coordinator. "Although 'Out Here' focuses on gender and sexual identity, this project ultimately highlights the intersectional identities of farmers in the U.S. and examines the important connections between food, identity and community."
"As a rapidly emerging field of study, Falk College's Food Studies program explores food and its vital influence on culture, public health, the environment and beyond," says Dean Diane Lyden Murphy. "Together with a number of Syracuse University groups, Falk College Food Studies is pleased to present a screening of 'Out Here,' which brings awareness to and understanding of the lives of the United States' queer farmers."
The event is presented by Falk College's Food Studies program; the Department of Sociology and the Department of Anthropology in the Maxwell School; the College of Arts & Sciences' Department of Women's and Gender Studies and the Lesbian Gay, Bisexual, and Transgender Studies program; the Syracuse University Humanities Center; and Brain Feeders, a student organization in Falk College's Food Studies program.
For more information, contact Elissa Johnson at ejohns07@syr.edu.