Campus & Community
Scholar Spotlight: Seth Quam '17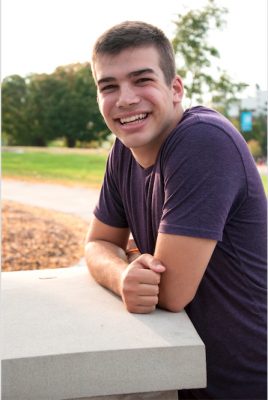 Senior Seth Quam knows he chose the right place for his college education with Syracuse University. Quam has two majors—1) citizenship and civic engagement and 2) geography—along with a minor in women's and gender studies.
A native of Lombard, Illinois, Quam has been involved in a host of different campus activities, including serving as an orientation leader, a tour guide with University 100, a member of the men's club volleyball team, a performer in the Orange Appeal acapella group, a singer in the Hendricks Chapel Choir, and involvement with the Student Affairs Advisory Board and CitrusTV. With his future after graduation in May 2017 still uncertain, Quam reflects on his Syracuse experience and explains why he's proud to be Orange.
Q: Why did you choose Syracuse for your college education? 
A: When I was applying to college I was absolutely convinced that I wanted to go into sports broadcasting, so naturally Newhouse was one of the first places I looked at. I didn't even care so much about Syracuse at first, mostly was just interested in the BDJ program and the basketball team. I thought it would be really cool to go to a school with a vibrant sports program and to be able to cover that as a student reporter.
Q: What accomplishment are you most proud of over your time at SU?
A: I've gotten to meet a lot of wonderful people. I'm proud that I've put myself in a position to seize opportunities to get to know folks who are doing incredible work. Whether it's NBA sideline reporters who come to campus, radical feminist panels that I get to attend, professors that I become friends with in office hours, other students I meet in various student orgs, administrators who work tirelessly to make Syracuse a place for all people, or the coolest bus driver this side of the Mississippi, Syracuse is a place with lots of wonderful people, and it's been a joy to meet so many of them. I can't take credit for most anything I've been able to do here because all of it has been a result of the inspiring people I've gotten to know.
Q: What's your favorite Syracuse memory or story?
A: A few things come to mind. There are all the incredible basketball moments—the Boeheim-half-rips-off-his-jacket moment against Duke, the Tyler Ennis shot, the John Gillon shot, the women's team making it to the National Championship!
Then there was my experience covering the field hockey team for the campus television station CitrusTV. I got to go to every home game, film the game, interview players and coach afterwards, and really get to know the team for two years. The second year, my junior year, they won the National Championship (at the University of Michigan) and I was there! That was incredible. Chancellor Syverud actually came up to me at halftime to say hey also, which was pretty cool.
Then there are certain academic opportunities I've had. I got to make an online interactive story map that links the spatial relationship between the Haudenosaunee Confederacy and 19th-century reform movements, which will now be on display at the Matilda Joslyn Gage Museum in Fayetteville.
Most recently, I've had the incredible honor and joy to attend several events for the radical Chicana feminist Cherrie Moraga, who was this year's Humanities distinguished visiting professor. They were all incredible, and getting to spend time with her and talk with her has been amazing.
Q: What about Syracuse's academics—particularly in your home college—has helped you the most?
A: Definitely professors. I am the biggest proponent of visiting professors in office hours. I've gone to see almost every professor I've ever had, and I've developed so many wonderful relationships with them. Some of those I honestly believe will be lifelong friendships. Talking with professors also just has allowed me to expand on my thinking from class and gain a deeper perspective on things that happen in class. For example, in my women's and gender studies classes we talk a lot about identity—about gender, race, sexuality, ability, class, nationality, etc. and how all of those identities intersect and impact your life experience in different ways. So I'm wondering, where does identity come from? I usually end up with more questions than I came in with, but having the opportunity to discuss some of those questions with professors has been an absolute joy.
Q: If any, what kind of internships have you had?
A: I interned at an environmental nonprofit back home called SCARCE (School and Community Assistance in Recycling and Composting Education) the summer after sophomore year. Last summer, I interned at the Minnesota Coalition Against Sexual Assault.
Q: What do you want to do post-graduation?
A: No concrete plans. I'd like to work on a college campus somewhere doing sexual and relationship violence prevention and healthy masculinity work, but I don't have anything lined up yet!
Q: Anything else you'd like to add about your Orange story?
A: I've been incredibly lucky to have such a rich experience at Syracuse, partially because of the identities I hold and my ability to access certain spaces and groups. The best part of the Syracuse community are the folks that work to create SU and the city beyond the Hill to be a place for all people. I'm not talking about symbolic or token politics of diversity, but radical inclusion that looks deeply at the geography of the University and the city to understand how certain people are privileged over others.